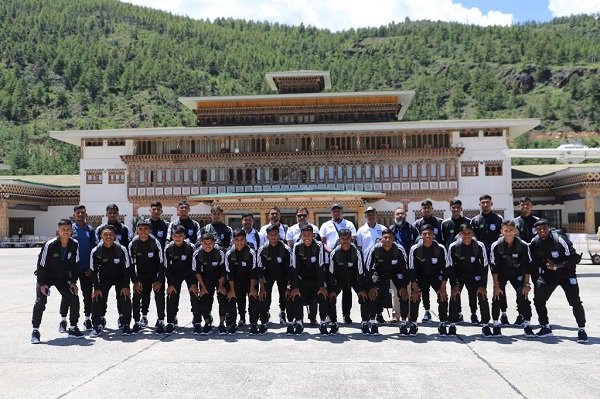 Bangladesh's U-16 football team reached Bhutan on Wednesday afternoon to compete in the six-nation South Asian Football Federation (SAFF) U-16 Championships to be held in Thimphu from September 2–10.
All the players and officials of the Bangladesh team are in sound health in the Bhutanese capital Thimphu, and the team will start their practise session on Thursday after a recess on Wednesday.
But the fixture of the tournament has partly been changed in the dying moments, deferring a day, according to a BFF media release on Wednesday, UNB reported.
Earlier, Bangladesh was placed in three-team stronger Group A with India and Nepal, while Group B teams comprise the Maldives, Pakistan, and hosts Bhutan.
According to the revised fixture, Bangladesh will now play India on September 2 at 3pm local time instead of September 1, while they will meet Nepal on September 4 instead of Sept 3 at 7pm, both at the Changlimithang Stadium in Thimphu.
After the group matches, the top two teams from each of the two groups will play in the semifinals on September 8 instead of September 7, while the final match will be held as per the previous schedule on September 10 at 6 pm.
Bangladesh's team comprises 23 booters and seven officials.
Members of the Bangladesh team: Goal Keeper: Nahidul Islam, Abdur Rahman, and Alif Rahman Imtiaz;
Defenders: Ashiqur Rahman, Ismail Hossen, Abu Rayhan Shawon, Mohammad Delwar, Imdadul Haque, Imran Khan, Saim Omith, Sheikh Sangram and Mithu Chowdhury ;
Midfielders: Kamal Mridha, Abdullah Junaid Chistry, Arman Miah and Nazmul Huda Faysal (Captain);
Forwards: Abu Sayed, Mohammad Ripon, Murshed Ali,MH Mohibbullah, Mohammad Manik, Salahuddin Shahed and Swe Mong Sing Marma.
Team officials: Team Manager -Mohidur Rahman Miraj, Head Coach -Saifur Rahman Moni, Assistant Coach-Abul Hossain, Goal Keeping Coach- Shah Alam Tutul, Physio -KM Shakib, Team Doctor- Mohammad Atiquzzaman and Media Officer – Saeed Hasan.