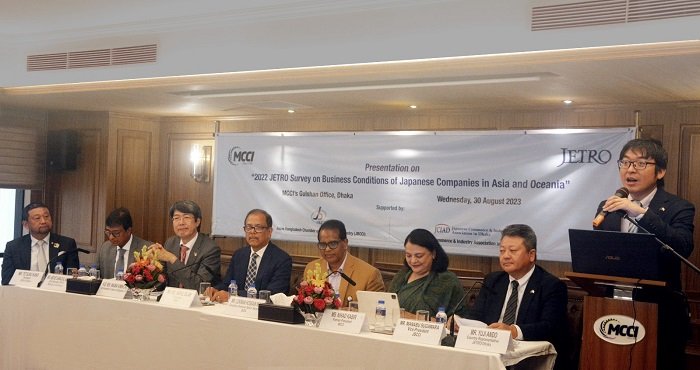 Volume of bilateral trade between Japan and Bangladesh will reach a new height soon, speakers said on Wednesday.
They made their observation in a discussion organised by the Metropolitan Chamber of Commerce and Industry, Dhaka (MCCI), on Wednesday jointly with the Japan External Trade Organisation (JETRO) to unveil the 2022-JETRO Survey on Business Conditions of Japanese Companies in Asia and Oceania, UNB reported.
Lokman Hossain Miah, Executive Chairman (Senior Secretary), of Bangladesh Investment Development Authority (BIDA), was present as the chief guest. IWAMA Kiminori, Ambassador of Japan to Bangladesh, attended the event as the special guest. Yuji Ando, Country Representative, JETRO Dhaka, made the keynote presentation on the report.
Lokman appreciated Japan's efforts towards Bangladesh's development and praised the interest of the Japanese investors to invest more.
He gave an update on BIDA's recent work towards making Bangladesh's business climate more investor-friendly.
Ambassador Kiminori emphasised on the need for a joint action plan for a public-private economic dialogue.
He also assured of handling the increasing demand for Japanese visas to the best of their abilities.
The ambassador reiterated Japan's continued commitment and efforts to improve Bangladesh's business environment.
MCCI President Md. Saiful Islam said that Japanese companies had played a crucial role in the economic progress of Bangladesh and the entire Asia and the Oceania region.
He praised JETRO for their regular research and dissemination of the findings.
Despite the pandemic and the Russia-Ukraine war, Bangladesh had become an attractive destination for Japanese companies, with nearly 350 of them investing more than $380 million in total, with Japanese investments in Bangladesh going past $100 million in 2022, said the MCCI president.
The speakers also hoped that the EPA between Japan and Bangladesh would soon become a reality, elevating the bilateral business to newer heights. Bangladesh's exports to Japan could also reach $10 billion by 2030 if business conditions could be improved.
A panel discussion was held during the event. The panelists were MCCI's immediate past President, Nihad Kabir, the Japanese Commerce and Industry Association (JCIA) in Dhaka's President, Tetsuro Kano, Ministry of Commerce's Joint Secretary (FTA-1), Abdus Samad Al Azad, and Japan-Bangladesh Chamber of Commerce and Industry's (JBCCI) Vice-President, Manabu Sugawara.
Besides, representatives from the government, various member firms of MCCI, the Japan-Bangladesh Chamber of Commerce, the Japanese Commerce and Industry Association in Dhaka, and JETRO officials attended the event.