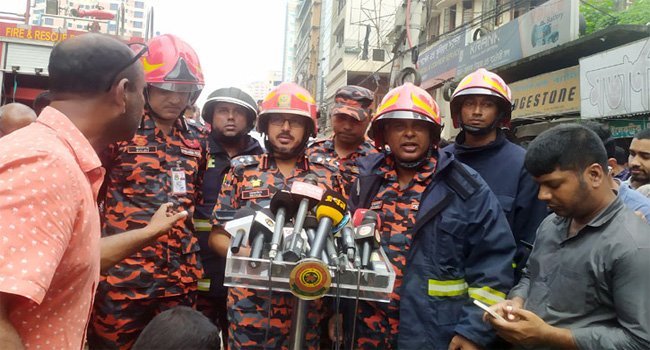 There may have been firecracker-like objects and chemicals in parcels at the delivery section of the SA Paribahan office at Kakrail of the capital, where a fire broke out on Monday morning, said fire service official.
Lt Col Rezaul Karim, director (training) of Fire Service and Civil Defence, told this while briefing the reporters on fire incident on the spot.
The director said even after the fire was brought under control, there were sounds of exploding crackers in the warehouse.
He said they found some firecracker-like objects, agro-products, some documents. An investigation team after examining the chemicals, that were found during the incident, will identify what kind of chemicals were stored there.
"It is not acceptable to store chemical or crackers with ordinary goods. The items should be stored and transported separately with special care," he said, adding that their work was hampered due to the sounds of explosions.
The fire was doused around 2:30pm. Earlier, the fire broke out around 10:10am and being informed ten firefighting units rushed to the spot and brought the blaze under.
Replying to another query, the fire official said they did not see adequate fire safety measures, but they would be able to say in detail about it after investigation.
They will informed the about the reason behind the fire and extend of damage after the investigation, the official said, adding that legal procedure will be taken according to the report.