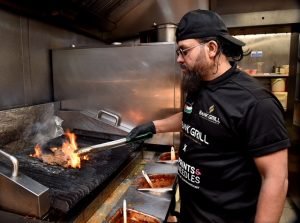 Muhammed Shahed Rahman :
Raju Kamaly, a British Bangladeshi takeaway chef, recently became a viral celebrity by uploading hilarious videos or inconsistencies at the end of work at a Tiktok restaurant . His viral TikTok ID is Bank Grill. https://www.tiktok.com/@bankgrill
At the Bank Grill restaurant in Oldham, England, there is now a long line of fans and customers. As of writing this report, his TikTok ID has seen more than 22 million views. Meanwhile, British media including Daily Mail.co.uk, Mirror.co.uk, The Sun.co.uk and many newspapers reported about him.
Takeaway chef Raju Kamaly is behind the viral millionaire Salt Bey's impersonation that has garnered millions of views on TikTok.
He is better known as Nusrat Gorkec or Salt Bae, a Turkish chef and restaurateur who went viral in 2017 for his unique way of sprinkling salt.
In this regard, it is known that Raju Kamali and Taiyab Ali came up with the idea during the lockdown and are now regularly posting Tiktok videos.
Chef Raju Kamaly told Bangla Mirror –
After working at the restaurant, I used to make videos to make my colleagues happy. But if the intention was there would have been a lot of inconsistencies in this industry I would have highlighted in a short time in the video.
Recently I uploaded one such video on Tiktok account bank grill, which got a lot of response on social media. For which Britain's mainstream print and online media have published news about it. Bengali media is broadcasting this news.
I am grateful to the viewers for being with us and thanking everyone including the journalists for highlighting the positive side of it all.
Their videos have reportedly been liked 1.1 million times, and a video posted earlier this month alone has more than 22 million views.
The viral takeaway chef Raju Kamaly is known as 'Salt Bhai'. Now he looks quite similar to the celebrity chef.
Wearing round black sunglasses, black rubber gloves and a turn-round baseball cap, Raju has even mastered the salt bay seasoning technique that has earned him worldwide fame.
He is famous for his eye-wateringly expensive restaurants where you can buy burgers and steaks covered in gold leaf that are cut in front of you by chefs.
The viral fame has led to customers flocking to Oldham's Bank Grill, where Raju works, and many go to meet the Salt brothers and pose for photos.
One difference between Salt Bae and Salt Bhai is that instead of salt, Raju sprinkles sesame seeds on the food.