Bangladesh High Commission, London marked the historic 7 March by hosting a high-profile panel discussion titled "Contemporary Thoughts on Bangabandhu Sheikh Mujib's Historic 7 March Speech: A UNESCO Documentary Heritage" at the mission's Bangabandhu Lounge on Tuesday where speakers observed that the Speech delivered by Bangladesh's Founding Father Bangabandhu Sheikh Mujibur Rahman on 7 March 1971 is considered as the 'Magna Carta' of Bangladesh Independence. They said that the 18-minute seminal Speech would continue to inspire freedom-loving succeeding generations across the world.
Paying profound tribute to Bangabandhu, High Commissioner for Bangladesh to the UK Saida Muna Tasneem in her opening remarks said, "The 18-minute unwritten 7 March Speech of Bangabandhu is the Magna Carta of Bangladesh Independence."
Noting that Bangladesh High Commission London translated the epic speech of the 'Poet of Politics Sheikh Mujibur Rahman' into Scottish, Irish and Welsh languages, the High Commissioner called upon British academia and media to initiate more research on the political significance of this UNESCO World Documentary heritage.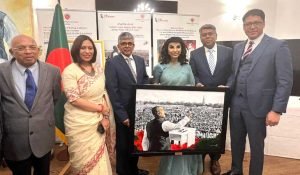 Irina Bokova, former Director General of UNESCO in a special video message on the occasion said that she was proud to be involved in announcing this historic speech as a world documentary heritage. She also said that it was for the first time in history, UNESCO recognised a document without a written script."
Professor Kaushik Basu, former World Bank Chief Economist and Professor of International Studies at US Cornell University said that the 7 March Speech of Bangabandhu was the ultimate inspiration for the Bengali nation to fight for freedom and emancipation.

The eminent economist said, "Today, Bangladesh has become a case study in economic development that few would have predicted. When its GDP growth rate surpassed Pakistan's, many dismissed it as a one-off fluke. But Bangladesh has outpaced Pakistan every year since then, and astonishingly is now one of the world's fastest-growing economies."
Renowned BBC broadcaster and foreign correspondent Humphrey Hawksley, paying deep respect to Bangabandhu, said, "The 18-minute powerful speech of Sheikh Mujib at Ramna Racecourse in Dhaka on 7 March 1971 brooked no compromise in establishing democratic rights for his people."
Recalling his visits to Dhaka, Humphrey praised Bangladesh's achievements and said, "Born from horrendous suffering, Bangladesh is a flagship role model of an independent sovereign state moving along the rocky, challenging path toward development, and now emerging as a South Asian economic tiger.  Its story should be studied by all those interested in global development."
Quoting Nobel Laureate economist Amartya Sen's Bangabandhu Birth Centenary Talk, Director of the South Asia Centre at London School of Economics Professor Alnoor Bhimani said, "Amartya Sen suggested that Bangabandhu be called "Bishwabandhu" (friend of the world) because his ideologies were not just important for Bengal but for the entire world." In my opinion, Bangabandhu's values of political freedom and economic emancipation are still relevant to today's world."
Duncan Bartlett, a former BBC journalist and editor of London-based Asian Affairs said the 7 March Speech of Sheikh Mujib would remain as crucial documentary evidence of Bangladesh's independence.
Praising Bangabandhu's daughter Prime Minister Sheikh Hasina for hosting over a million Rohingyas from Myanmar for years, the British journalist called for a strong global commitment and initiative to end the crisis.
Renowned Bangladeshi journalist and a Senior Research Fellow at the School of Advanced Study, University of London Syed Badrul Ahsan spoke on the historic aspect of the 7 March Speech and said that Pakistan Radio was supposed to broadcast the Speech, but the then military ruler did not allow it, fearing its immense impact on freedom-loving people.
Secretary General and Chief Executive, UK National Commission for UNESCO James Bridge,  eminent freedom fighter in the 1971 War of Independence Mahmud Hasan MBE and Lecturer in Media in Development and International Journalisms, SOAS Dr. Somnath Batabyal also spoke on the occasion. Nooruddin Ahmed, Chair of the 7 March Foundation and Co-partner of the commemorative event gave the welcome speech.
A documentary on the historic 7 March was shown at the event, attended by guests from British and British-Bangladesh communities. High Commissioner along with the guests unveiled a painting on the historic 7 March that was presented to the High Commission by Dhaka University Club, UK.
The Day's programme began with the hoisting of the national flag at the chancery by the High Commissioner along with the officers of the mission.