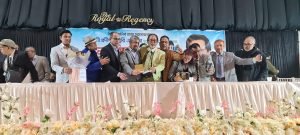 By Muhammed Shahed Rahman :
Prominent wealthy, elite person Dr. Kali Pradeep Chowdhury said, Bangladesh is my mother, Sylhet is my mother. I want to establish a medical university of international standard in Sylhet to repay my mother's respect and love.
On Sunday (March 6, 2023) at The Royal Regency Hall in East London, the welcome guest Dr. Kali Pradeep Chowdhury also said that establishing a medical university is not just a dream, it is a big challenge in my life.
The senior president of the organization. Under the chairmanship of Abdul Hannan and the organization's advisor Anwar Shahjahan and Professor Michbah Kamal, the general secretary of the organization gave a welcome speech. Ghiyas Uddin Ahmad and Chief Advisor Dr. Mahmudur Rahman Manna.
Honored guest Dr. Kali Pradeep Chowdhury said, I have gone to Bangladesh 41 times till date to establish a medical college. i am trying With the help of all of you, the work will start in a few days. He also highlighted some progress in the establishment of medical colleges.
Dr. Kali Pradeep Chowdhury also said, I am an established businessman. Established numerous hospitals all over the world including India. But I regret not being able to do anything in my country, my birth place. Please pray for me that I am dreaming. May my dreams, your dreams see the face of success.
At the beginning of the program, Maulana Ashraful Islam recited the Holy Quran, Meera Barua read the Gita, Vijay Chakraborty read the Tripitaka. Dr. Mr. Lenin and SM Shipper read the certificates in honor of Kali Pradeep Chowdhury. Chief Adviser Mahmudur Rahman Manna, Adviser Professor Michaba Kamal and Treasurer Ansar Ali received flowers on behalf of the organization.
Tower Hamlets Council Speaker Councilor Shafi Ahmed, Dagenham and Barking Council Mayor Councilor Farooq Chowdhury, Bangladesh High Commission Minister for Political Affairs Nasreen Mukti, Croydon Council Former Mayor Councilor Humayun Ahmad, BIA Advisor Shamim Ahmad, spoke as special guests. Founder General Secretary of British Bangladesh Chamber of Commerce Shahnur Khan, CEO of ION TV Ataullah Farooq, former Speaker of Tower Hamlets Council Ahbab Hossain, Advisor of BIA Mo Tajul Islam, Vice President Dr. Ashraf Bakt, International Organizing Secretary AKM Abdul Hannan, Golapganj Upazila Education Trust General Secretary Abdul Bachir, prominent businessman Abdul Bari, Golapganj Upazila Social Trust UK Chairman Mohammad Abdul Bashit, Dakshin Surma Samaj Kalyan Samiti UK President Alhaj Salim Ahmad.