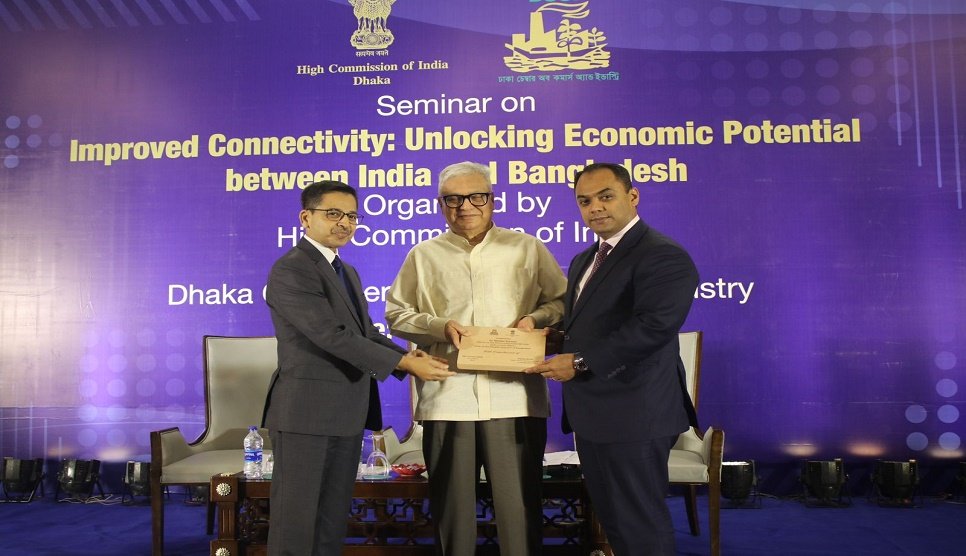 High Commission of India in collaboration with the Dhaka Chamber of Commerce & Industry (DCCI) organized a Seminar on "Improved Connectivity: Unlocking Economic Potential between India & Bangladesh" on 16 March in Dhaka.
High Commissioner Pranay Verma and President of DCCI Barrister Sameer Sattar jointly hosted the programme.  H.E. Dr. Mashiur Rahman, Economic Affairs Adviser to the Hon'ble Prime Minister of Bangladesh was the chief guest on the occasion.
In his address, High Commissioner Pranay Verma described connectivity as being central to economic, cultural and people-to-people connection and highlighted the recent initiatives to forge closer connectivity links between India and Bangladesh, including physical, energy and digital connectivity.
He noted that with a contiguous geography and shared history, connectivity is a natural manifestation and a driver of our growing partnership. He also emphasised the potential of multimodal connectivity using road, railways, inland waterways and costal shipping routes to boost our bilateral trade. He expressed confidence that the new Comprehensive Economic Partnership Agreement (CEPA) to be negotiated between India and Bangladesh would create a new framework for enhanced bilateral trade and investment links after Bangladesh's economic graduation in 2026. High Commissioner also emphasized on border haats along the India-Bangladesh border as a priority area of economic engagement.
H.E Dr. Mashiur Rahman, Economic Affairs Adviser to the Honourable Prime Minister of Bangladesh remarked that Bangladesh is a business friendly destination. He also invited Indian companies to invest in Bangladesh.
The interactive session was attended by members of Dhaka Chamber of Commerce & Industry, top leaders of businesses and heads of other business chambers of Bangladesh as well as scholars and experts.