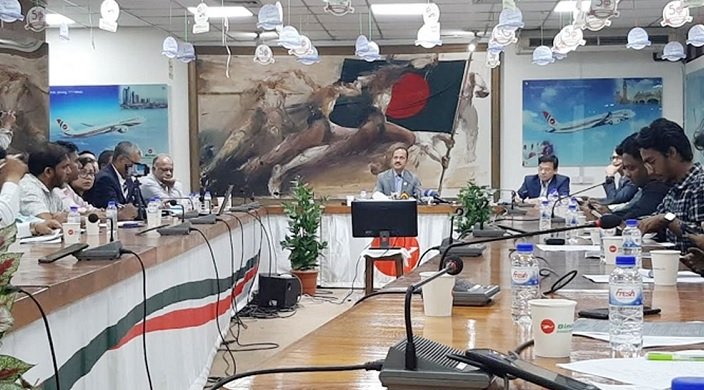 Biman's Managing Director and CEO Shafiul Azim said they will not reduce the hajj airfare this year.
He said the state-owned Biman Bangladesh Airlines will not slash this year's hajj airfare despite calls from different quarters, including the religious affairs ministry, for reducing the ticket price.
He said this at a press conference held at Balaka Bhaban in Kurmitola in the capital on Sunday afternoon.
"The Biman authorities had no role in raising the airfare for Hajj passengers. The airfare which has been fixed for Hajj pilgrims is an ideal airfare," he said.
Shafiul Azam said the Biman's airfare has increased due to increase of prices of dollar and jet fuel, and raising taxes. "We had no role behind raising the airfare."
The Biman managing director claimed that the Hajj airfare which has been fixed by Biman was the "lowest." "We've reduced the fare as much as we could. It was not possible to reduce it further."
"At the beginning, we proposed to fix the airfare at Tk 2,10,338. Then it was reduced to Tk 1,98,000. Hajj package has been finalised. Biman is just a sub-sector there. We have proposed the lowest fare. We have nothing to do further," he said.
He also informed the media that the flights carrying Bangladeshi Hajj pilgrims to Saudi Arabia will begin on May 21 and the return flights will begin on August 2.
The national flag carrier will operate 159 pre-hajj flights and 152 post-hajj flights with its Boeing 777 and Boeing 787 aircraft, he added.
This year Hajj, one of the five pillars of Islam, will be held on June 27 (Zilhajj 9) subject to the appearing Moon in the sky.