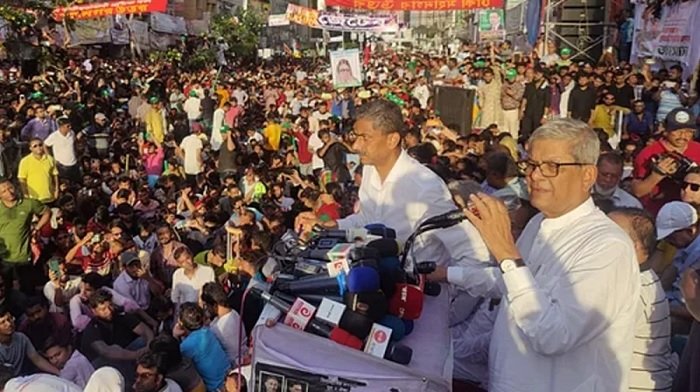 BNP Secretary General Mirza Fakhrul Islam Alamgir has announced fresh programmes from their party's grand rally at Nayapaltan in the capital on Friday (July 28) afternoon.
According to the fresh programmes, the party will observe sit-in at all strategic entry points to the Dhaka city on Saturday (July 29). The sit-in programme will be observed from 11:00am to 4:00pm.
BNP leaders and workers will observe the sit-in programme on Saturday (July 29) peacefully, said Fakhrul.
The same programme was announced by BNP's joint movement's partner Ganatantra Mancha and like-minded 12-party alliance.
The venue of BNP's grand rally was filled up by the party's leaders and workers by 10:00am. Rain started at Nayapaltan area at about 1:30pm. At that time, many of the BNP leaders and workers were found taking shelters under the roadside small shops leaving the road. However, the rain was stopped some time before 2:00pm. Then the leaders and workers take position on the road again.
Addressing the grand rally, Mirza Fakhrul said, "Today's grand rally is a milestone of change. Now, it is not the time to deliver speech. We're in the field. Our only objective is to build a democratic Bangladesh."
Speaking at the rally, BNP standing committee member Amir Khasru Mahmud Chowdhury said there is no scope for Sheikh Hasina's government to remain in power after today's rally. "Take preparations to leave Ganabhaban as soon as possible."
He said the country's people have conveyed a clear-cut message to the vote thief government to leave Ganabhaban.
The BNP leader also observed that many leaders and workers of the party were arrested centring the Friday's grand rally. "We are identifying those who were involved in this process and helped the government to pursue its misdeeds."
Amir Khasru further said the government does not have any support at home and abroad. "So, it's a befitting time for them to resign from power. Otherwise, democracy-loving people would not go back home without realising their demands."