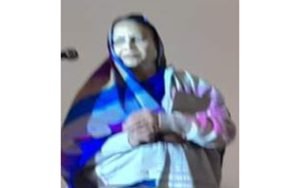 Ansar Ahmed Ullah:
The leaders of the UK Nirmul Committee have expressed grief over the death of Shahana Sultana, mother of Nirmul Committee's secretary Munira Parveen and wife of prominent educationist Shaukat Ali. and expressed deep condolences to the bereaved family.
Nirmul Committee President Syed Anas Pasha, Vice President Journalist Matiar Chowdhury, Vice President Nilufa Yasmin Hasan, Vice President Jamal Ahmad Khan, Secretary Smrity Azad, Treasurer Enamul Haque, Joint Secretary Shah Mustafizur Rahman Belal, Juyel Raj, Anjuman Ara Anju, former Presidents Nooruddin Ahmed, Syed Enamul Islam, Jyotsna Parveen, Nazma Rahman and European branch secretary Ansar Ahmed Ullah expressed deep sympathy and condolences to the bereaved family in a condolence message. The leaders also prayed to the Almighty God to grant her relatives strength and seek forgiveness for the deceased's soul.
It is to be noted that Shahana Sultana passed away in Sylhet City on 13 September. She was 64 years old at the time of his death. She lives behind her husband, two daughters and a son, many relatives and well-wishers.
Former Superintendent of Primary Teachers Training Institute, educationist Md Shaukat Ali's wife lived at West Subidbazar Lovely Road in Sylhet city. Their village house is in Jatrapasha village of Baniachang Upazila of Habiganj.
She was buried in the cemetery adjacent to the mausoleum after offering prayers at Hazrat Shahjalal Dargah Mosque on Thursday, 14 September. People from different classes and professions of Sylhet participated in the funeral prayers.