Ansar Ahmed Ullah:
We are trying to contribute to the lessening of the sufferings of humanity and uphold democracy. We have to come together against all Neo-colonial neoliberal efforts to distort the image of our country, a country born out of the human rights struggle in '71, is true to the principles and fundamentals of democracy and human rights, said Dr Mizanur Rahman.
Dr Mizanur Rahman, former Chairman of the National Human Rights Commission of Bangladesh, was speaking as a keynote speaker at an event titled "Democracy and Human Rights in Bangladesh" organised by Study Circle London at Attlee and Reid Room, House of Lords on 18 September 2023. Keynote speaker Dr Mizanur Rahman said, "When opportunistic foreign powers bring extremism into the mainstream, that puts our democracy in peril. Let us join hands to prevent democracy from dying." Dr Mizanur Rahman further said, I want to go back and tell people back home that I came back from London with promises and pledges from my British friends, that they are with us in our fight against poverty, to uplift the standard of life of the common people of the People's Republic of Bangladesh.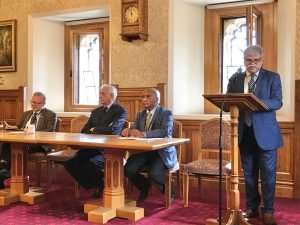 Lord Daniel Hannan of Kingsclere chaired the event, while Syed Mozammel Ali, chair of Study Circle, conducted the meeting. Lord Hannan spoke of the many trade opportunities between UK and Bangladesh.
Others who spoke at the meeting were Martyn Day MP, Oxford Scholar Dr Rayhan Rashid, Dr Gowher Rizvi, Prime Minister Sheikh Hasina's International Affairs Advisor and Bangladesh High Commissioner to the UK Syeda Muna Tasneem. Dr Gowher Rizvi said, "I want to issue a reminder that there is a lot still wanting, but we are trying to achieve democracy and development. It is not one or the other." Bangladesh's High Commissioner to the UK, Her Excellency Saida Muna Tasneem, emphasised the strong trade relationship between the UK and Bangladesh, stating, "We are pursuing the same values, fostering secular and inclusive societies."
Following the speakers, those who contributed to the discussion were security analyst Chris Blackburn, community leader Sultan Shariff and Tony Blair Institute's Usama Hassan, amongst others. While speakers underlined the secular aspiration of Bangladesh's founder, Sheikh Mujibur Rahman, and the efforts undertaken by Prime Minister Sheikh Hasina to protect minorities, they acknowledged that this harmony was threatened by the efforts of some Islamist groups in the country to stoke communalist tensions and that there was a need to remain vigilant.
A cross-party group of leading politicians, diplomats, and community leaders attended the talk. The event was also attended by Timothy Loughton MP, representatives from the Foreign, Commonwealth and Development Office (FCDO) and Jamal Ahmed Khan, Coordinator of Study Circle London.