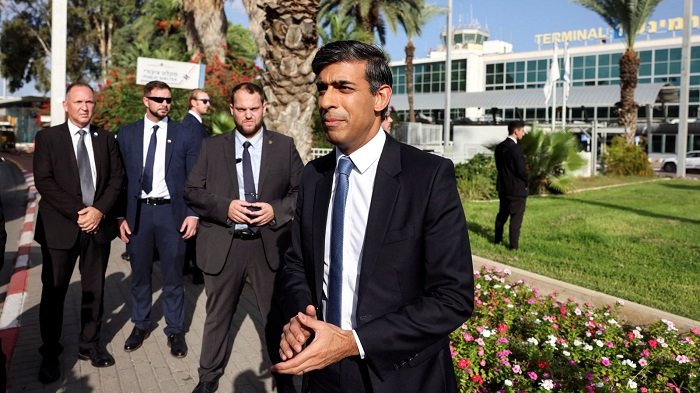 Rishi Sunak has arrived in Israel, commencing a two-day trip to the wider region amid growing concerns the conflict with Hamas could escalate.
The prime minister will hold a meeting with Israel's Prime Minister Benjamin Netanyahu and President Isaac Herzog, before travelling to a number of other regional capitals in a diplomatic bid to prevent fighting from spiralling.
Downing Street did not specify exactly where the prime minister would go after Israel, but said he would be meeting counterparts "from across the Middle East".
In his meetings he will press for the route into Gaza to be open for the delivery of humanitarian aid and the exit of those trapped in the territory, while expressing his condolences for victims on both side of the war.
His departure came as President Biden said Egypt's President Sisi had agreed to open the Rafah crossing to allow 20 trucks of aid into Gaza.
Ahead of the trip, Sunak said: "Every civilian death is a tragedy. And too many lives have been lost following Hamas's horrific act of terror.
"The attack on al Ahli hospital should be a watershed moment for leaders in the region and across the world to come together to avoid further dangerous escalation of conflict. I will ensure the UK is at the forefront of this effort."
On Tuesday a huge blast ripped through the al Ahli hospital in Gaza City where hundreds of Palestinians had taken refuge amid an Israeli siege of the Gaza Strip in the wake of Hamas's deadly surprise attack on 7 October.
Hamas officials claimed the hospital blast killed hundreds of people and was caused by an Israeli air strike – but the Israeli military blamed a misfiring rocket from the Palestinian Islamic Jihad group and released imagery and communications intercepts aimed at supporting their case.
Sunak's trip comes after US President Joe Biden travelled to Tel Aviv on Tuesday, where he sided with Netanyahu that the hospital strike appeared not to have been caused by Israel but "by the other team".
But Sunak – who held talks with the National Security Adviser and the chairman of the Joint Intelligence Committee on Wednesday morning – said he would not "rush to judgement before we have all the facts on this awful situation".
Sky News reported on Tuesday that the prime minister could visit Israel this week, but Downing Street has only just confirmed this.
His trip will run in parallel with a trip by Foreign Secretary James Cleverly, who will meet leaders in Egypt, Turkey and Qatar over the next three days in a bid to help prevent the conflict spreading and to seek a peaceful resolution.
Cleverly said: "It is in no one's interests – neither Israeli, Palestinian nor the wider Middle East – for others to be drawn into this conflict.
"I am meeting counterparts from influential states in the region to push for calm and stability, facilitate humanitarian access into Gaza and work together to secure the release of hostages."
Cleverly has cast doubt on the feasibility of a ceasefire, which dozens of cross-party MPs have called for as food, water, medicine and other supplies run low in Gaza.
Israel said on Wednesday it would allow Egypt to deliver limited quantities of humanitarian aid to the area – a decision which was approved in light of Biden's request during his visit.
Sunak will press for that to enable the UK to deliver the £10m uplift in humanitarian aid announced earlier this week, and to enable British nationals trapped in Gaza to leave.
At least seven British nationals, including 13-year-old Yahel Sharabi, were killed in the Hamas raids on Israel while nine UK nationals remain missing – some of whom are feared dead or among the hostages taken back to the Gaza Strip.