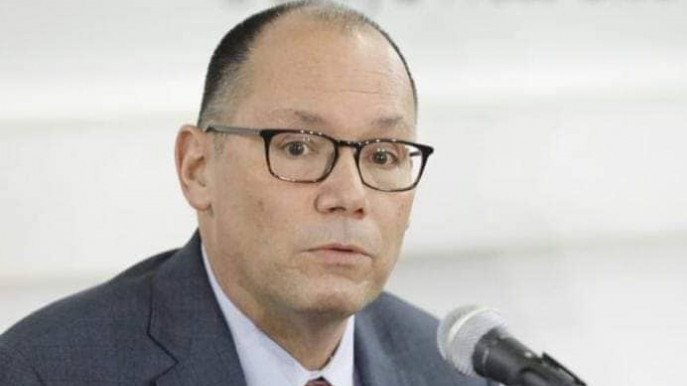 Amid various media reports that US Ambassador to Bangladesh Peter Haas was heading for the USA today, the Ministry of Foreign Affairs has said they are aware of his whereabouts.
During a press briefing today (16 November), Ministry of Foreign Affairs Spokesperson Seheli Sabrin said the ministry, however, does not publicly disclose the whereabouts of any ambassador.
"When ambassadors leave the station, they follow protocol and inform the host country and the Ministry of Foreign Affairs through diplomatic letters. In their absence, someone else is put in charge," she said.
The Business Standard Google News Keep updated, follow The Business Standard's Google news channel
"This is a diplomatic procedure that an ambassador should inform when he leaves the country. However, the Ministry of Foreign Affairs will not publicly disclose the information about how long an ambassador will be away or where he has gone as this is something he has officially informed."
Responding to the rumours, she further said, "Why should there be any misinformation when you [reporters] can talk to the embassy concerned?"
The US Embassy has not officially released any information as of yet.
The Business Standard has reached out to embassy officials, but they were not available for comment.
An Awami League leader from Cox's Bazar threatened to kill US Ambassador to Bangladesh Peter Haas.
A video of the speech given by Maheshkhali Upazila Awami League Senior Vice President Faridul Alam during a worker's rally in Kalamarchhara upazila that took place on 6 November has been making rounds on social media.
In the video, Faridul Alam, who is also a former chairman of Hoanak Union, is seen saying he will slaughter Peter Haas.
However, Faridul Alam refuted the statement saying, "It was our internal party event. There I talked about making the event organised in honour of Prime Minister Sheikh Hasina a success. I don't know who recorded the video. I did not give any such statement, this is a conspiracy against me."
Earlier on 15 November, the US Embassy in Bangladesh issued a statement saying the recent threats of violence directed towards its personnel, including US Ambassador to Bangladesh Peter Haas, is unacceptable and deeply troubling.
"We have repeatedly raised our concerns about the threatening rhetoric directed at Ambassador Haas with the Bangladeshi government, which has the obligation under the Vienna Convention on Diplomatic Relations to ensure the security of US diplomatic missions and personnel," US Embassy Spokesperson Stephen Ibelli said in a statement on Wednesday (15 November).
Earlier, US Ambassador Peter Haas expressed deep concern over the violent political rhetoric that has been directed against the people in the US Embassy.
"The United States remains neutral in the upcoming elections, we want free and fair elections in a peaceful manner," said the ambassador following a meeting with the General Secretary of Awami League and Minister of Road Transport and Bridges Obaidul Quader on Wednesday.
He also said, "We are on no political party's side. We call on all sides to de-escalate, to avoid violence, and try to figure out a way to have a dialogue without preconditions to help make the election conditions better."
On 6 November, Chattogram's Banshkhali upazila's Chambal union chairman and Union Awami League convener Mujibul Haque Chowdhury threatened to beat Peter Haas.
He broadcast his statement live on his Facebook, according to media reports.
Following the incident, the United States on 9 November said they expect the host government of any country to take all appropriate measures to maintain the safety and security of their personnel and facilities.
"Safety and security of our diplomatic personnel and our diplomatic facilities is of utmost importance. I think such kind of violent rhetoric is deeply unhelpful," said Principal Deputy Spokesperson at the US Department of State Vedant Patel when asked about the remarks made by a local union-level Awami League leader Mujibul Haque Chowdhury.
Later on 10 November, Prime Minister Sheikh Hasina directed action against the individual.