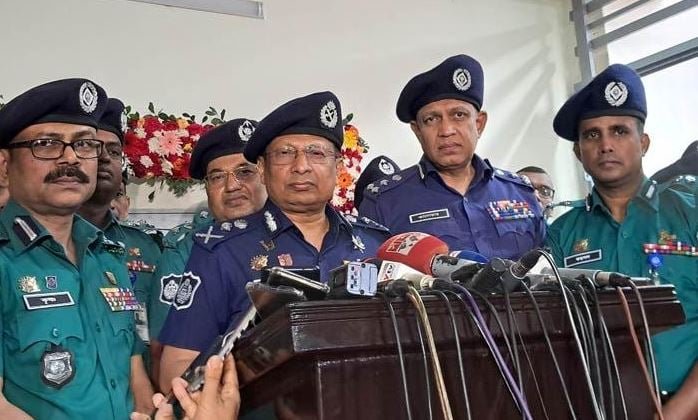 The relationship of a former senior police officer with Dubai based gold-trader Arav Khan, who is accused in the police murder case, is being investigated, Inspector General of Police (IGP) Abdullah Al Mamun has said.
"We are looking into the matter sincerely and you will get the information at the appropriate time," the IGP told journalists in Chattogram on Monday afternoon.
While inaugurating Enayet Bazar Police Outpost of Kotwali Police Station under the Chittagong Metropolitan Police (CMP), the IGP said, "Bangladesh police have requested Interpol to issue a red notice against fugitive accused
Rabiul Islam alias Arav Khan, owner of Dubai's Arav Jewellers . . . The Interpol has already accepted the request."
A letter has been sent to Interpol to issue a red notice against the name which is mentioned in the charge sheet of a police murder case, he added.
Arav Khan inaugurated Arav Jewellers in a grand ceremony last Wednesday in Dubai, United Arab Emirates.
Police instantly identified Arav Khan after he made several posts on Facebook inviting many Bangladeshi stars from the sports and entertainment arena.
According to police, Arav's real name is Rabiul Islam. On July 7, 2018, police inspector Mamun Emran Khan was murdered in Dhaka.
On April 11, 2019, Detective Branch of police pressed charges against Rabiul and nine others in the murder case of Mamun Emran Khan, the then inspector of the special branch (SB) of police. Then, Arav Khan went into hiding.
Rabiul Islam first went to India after fleeing from the country. Then, he collected a passport in the name of Arav Khan and went to Dubai. Now he is a billionaire gold trader in Dubai, police added.