By Matiar Chowdhury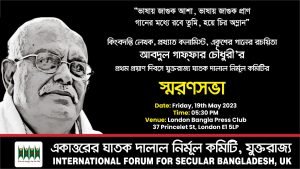 London: "Let hope be awakened in language, let life be awakened in language,
and you shall live in song, and be eternal." Through this slogan, Amar Ekushey,
the composer of the song, Legendary writer, renowned journalist-columnist
The first death anniversary of Abdul Ghaffar Chowdhury was observed
Ekatterer Ghatok-Dalal Nirmul Committee UK branch.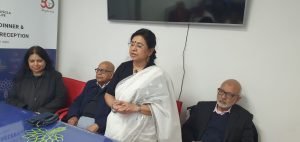 Yesterday, May 19 Friday evening London time, at the London Bangla Press
Club Auditorium, Princelet Street, East London The UK branch is the chief
advisor of the Ekatterer Ghatok Dalal Nirmul Committee Amar Ekushe song is
composed by renowned journalist Abdul Ghaffar Chowdhury's Speakers said at
the discussion meeting of the first death anniversary Abdul Ghaffar Chowdhury
was not only a language soldier, He was one of the architects of the spirit of
liberation war and non-sectarian Bangladesh. In his death, the country has lost
one of the best sons of the nation We have lost our Guardian. He will live
forever in the midst of His immortal creation Ekushey song.

presided over And General Secretary Bachik Shilpi Munira Parveen moderated
the discussion meeting Abdul Ghaffar Chowdhury's Philosophy, He sheds light
on various aspects of thought and life Senior politician Sultan Mahmud Sharif,
one of the organizers of the liberation war in exile and advisor of the United
Kingdom branch Nirmul Committee, Hero freedom fighter Lokman Hossain,
Abdul Ghaffar Chowdhury's daughter Thonima
Chowdhury, Habib Rahman, one of the organizers of the Liberation War,
Retired teacher Razia Begum, Satyabrata Swapan, UK Nirmul UK branch Nirmul
Committee Vice-President – Nilufar Yasmin Hasan Committee advisor, freedom
fighter Abu Musa Hasan, Mustafa Kamal, Poet Mainur Rahman Babul, Md.
Abdul Aziz, Uday Shankar Das, Journalist Syed Nahas Pasha, Husneyara Matin,
Journalist Hamid Mohammad Advocate Mujibul Haque Moni, Nazrul Islam
Akib, poet Hilal Saif, Shampa Dewan, Abdul Ahad Chowdhury, brave freedom
fighter Abdur Rahman, freedom fighter Abul Kashem Khan, Nazma Hussain,
Jamal Ahmed Khan, Shah Belal etc. The music was performed by Himanshu
Goswami, a vocal warrior of the 1971s. Recited by Urmi Mazhar,Before this,
the family of Abdul Ghaffar Chowdhury A Milad Mahfil was organized at
Bricklane Jame Masjid in Banglatown.