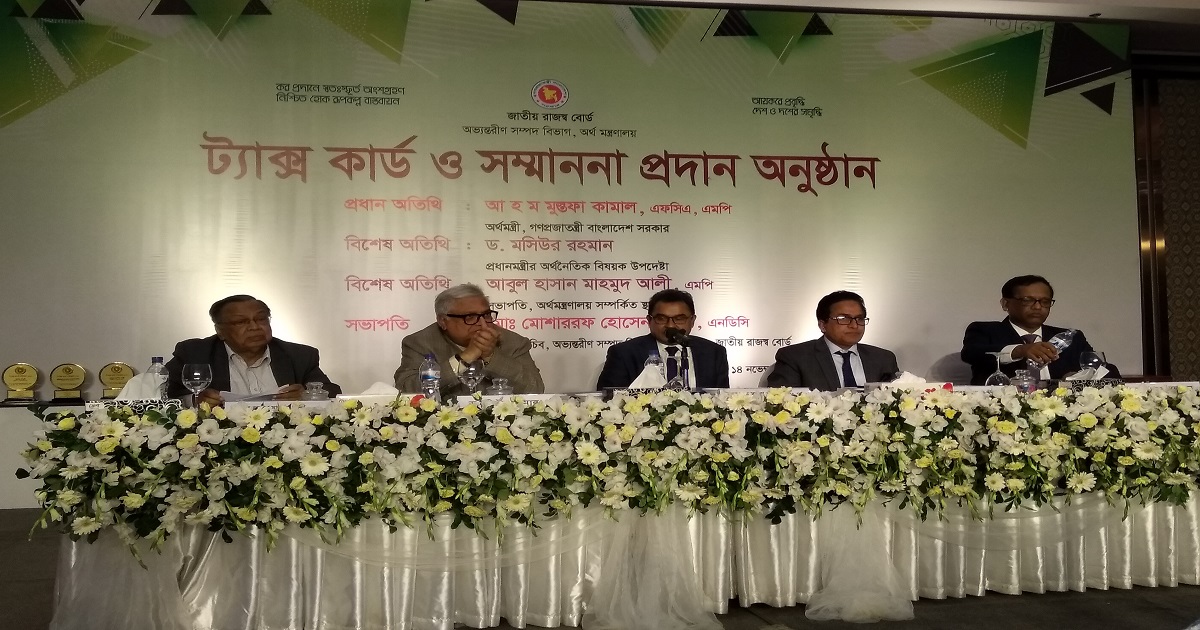 Dhaka, Nov 14 : A total of 142 national-level tax card winners, including 75 individuals, 57 companies and 10 under other categories have been awarded by National Board of Revenue (NBR).
The state revenue collection agency also awarded 521 top district-level taxpayers on the basis of highest or long-term tax payment.  Of them, 374 were selected on the basis of highest tax payment and 147 for long-term tax payment.
As the chief guest, Finance Minister Mustafa Kamal distributed the awards among the top income taxpayers of the 2018-19 fiscal at a programme held at the Radissan Blu in the capital on Thursday.
Minister Kamal said paying tax is a virtue. "So I urge you to encourage all people to pay tax.
Kamal also said he would fulfil an oath he took and collect Tk3 lac 2500 crore. We will reduce tax rate if it is needed.
NBR chairman Mosarraf Hossain Bhuiyan said that it is an important day for the country, rewarding those who play important role in our economy.
"A competition is need paying tax in the country," he also said.
Mosarraf said, "we started initiatives to create new taxpayers here. We encourage people arranging such programme so that the number of taxpayers is increased. The country is developing. It will further be developed."
According to NBR separate gazettes dated November 5, 2019, Hazi Mohammad Kaus Mia, Syed Abul Hossain, Kamrul Ashraf Khan, Mohammad Kamal, and M Aslam Serniabat have been awarded for the tax cards under "businessmen" category.
Besides, under "ready-made garments (RMG) category, Youngone Hightech Sportswear Industries Ltd, Refat Garments Ltd, GMS Composite Knitting Industries Ltd, Ha-Meem Denim Limited, That's It Sportswear Ltd, Pacific Jeans Ltd, and Four H Fashions Ltd got tax cards.
Under "banking category", Islami Bank Bangladesh Limited, Standard Chartered Bank Bangladesh, National Bank Limited, The Hong Kong and Shanghai Banking Corporation Limited, BRAC Bank Limited, Pubali Bank Limited, Southeast Bank Limited, and United Commercial Bank Limited have been nominated.
Media Star Limited, East West Media Group Limited, Transcraft Limited, and Media World Limited won the tax card under "print and electronic media" category.
Of the individual taxpayers, Mahfuz Anam, Mohammad Abdul Malek, Matiur Rahman, Shykh Seraj, and Monjurul Ahsan Bulbul received the tax cards under "journalist" category.
Besides, Apex Footwear Limited, Bata Shoe Company (Bangladesh) Limited, and Atlas Footwear Limited received the tax cards under "leather industry" category.
Nestle Bangladesh Limited, Olympic Industries Limited, and Square Food and Beverage Limited won the tax cards under "food and beverage" category.
Under "Jute industries" category, Akij Jute Mills, Janata Jute Mills, and Super Jute Mills got the tax cards.
Coats Bangladesh Limited, Badsha Textiles Limited, ACS Textiles (Bangladesh) Limited, Noman Terri Towel Mills Limited, Apex Textile Printing Mills Limited, Envoy Textile Limited, and Fakhruddin Textile Mills Limited received the tax cards under "spinning and textile" category.
Under "pharmaceuticals and chemical" category, Unilever Bangladesh Limited, Square Pharmaceuticals Limited, Incepta Pharmaceuticals Limited, and Renata Limited won the tax card.
Under "real-estate" category, Rangs Properties Limited, Equity Property Management Limited, and Bay Development Limited received the tax cards
ASA, Bureau Bangladesh, R S Trading, British American Tobacco Bangladesh Company Limited, American Life Insurance Company, Sadharan Bima Corporation, and Toma Construction and Company Limited won the tax card under "other" category.
Under "player" category, Tamim Iqbal, Sakib Al Hasan, and Mashafe Bin Murtaza got the cards.
Under "senior citizen" category, Golam Dastagir Gazi, Engineer Khandaker Badrul Hasan, Anita Chowdhury, Ali Hossain Akbar Ali FCA, and Dr Mostafizur Rahman have been awarded the tax cards.
At the programme, Prime Minister's economic adviser Moshiur Rahman, among others were in attendance.