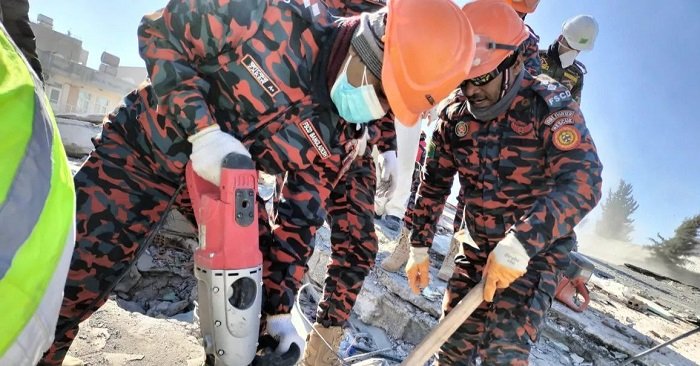 A fire service rescue team, part of Bangladesh's rescue efforts in Turkey, returned to the country on Tuesday night after completing their work in Turkey's quake-hit areas.
At around 8 p.m. on February 21, the team returned to Dhaka in a C-130 special aircraft of the Air Force along with the joint rescue team of Bangladesh.
The director of operations and maintenance for the fire service department, Lieutenant Colonel Mohammad Tajul Islam Chowdhury, was present at Tejgaon airport to greet the team, reports UNB.
Earlier this month, Turkey and its neighbouring Syria were struck by one of the worst earthquakes in history. The February 6 earthquakes completely devastated parts of southern Turkey and northern Syria. As of February 21, more than 47,000 bodies had been recovered from the rubbles caused by the devastating earthquakes.
On February 8, the government sent a joint rescue team of 46 people to the areas hit by the earthquake to help with rescues and medical care.
Dhaka has also expressed solidarity with the government and people of Turkey and assured them of additional support.
According to the Ministry of Foreign Affairs, Foreign Minister AK Abdul Momen conveyed to the Turkish foreign minister that Bangladesh is sending an additional 10,000 tents, with the initial 2000, to Turkey for the earthquake victims.
In a phone call to his Turkish counterpart on February 15, he also requested to let Bangladesh know if they need anything else, adding that Bangladesh is ready to send construction workers for reconstruction efforts in the affected areas.