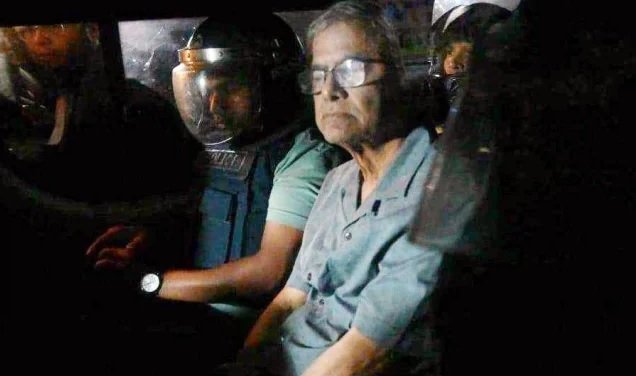 A court in Dhaka has fixed November 20 for hearing the bail petition of BNP Secretary General Mirza Fakhrul Islam Alamgir in a case filed for "hurling brickbats by breaking the gate of the residence of chief justice."
Dhaka metropolitan sessions judge Md Asaduzzaman fixed the date on Thursday.
On behalf of Mirza Fakhrul, his counsel Advocate Zainul Abedin Mesbah submitted the bail petition to the court on Thursday morning. The court fixed the date for bail hearing in the evening.
Mirza Fakhrul was arrested from his residence at Gulshan in the morning on October 29 last. Rejecting the bail prayer, a court at night on that day ordered to send the BNP Secretary General to jail.
The BNP Secretary General's counsel Advocate Zainul Abedin told the court on that day that the BNP secretary general was sick. He was implicated in the case with a view to harassing him politically.
Another counsel Advocate Omar Faruque Faruki told the court that Mirza Fakhrul was on the podium of the grand rally under Paltan Police Station on october 28 last. He was not involved in vandalising the gate of chief justice's residence or hurling brickbats under Ramna Police Station in any way. Conspiracy was hatched to foil the BNP's grand rally in a planned way, said Omar Faruque Faruki.
Advocate Iqbal Hossain told the court that Mirza Fakhrul was a teacher. He was implicated in as many as 102 criminal cases for doing politics. He appeared at court regularly in every case filed against him. He has always been respectful to court.
However, opposing the bail petition of Mirza Fakhrul, public prosecutor of Dhaka Metropolitan Sessions Judge Court Abdullah Abu told the court that the BNP-Jamaat carried out mayhem in the name of grand rally. The entire world saw BNP-Jamaat's mayhem. They killed a policeman.
Ramna Police Station inspector Mofizur Rahman filed the case against Mirza Fakhrul and others for allegedly breaking the gate of chief justice's residence.