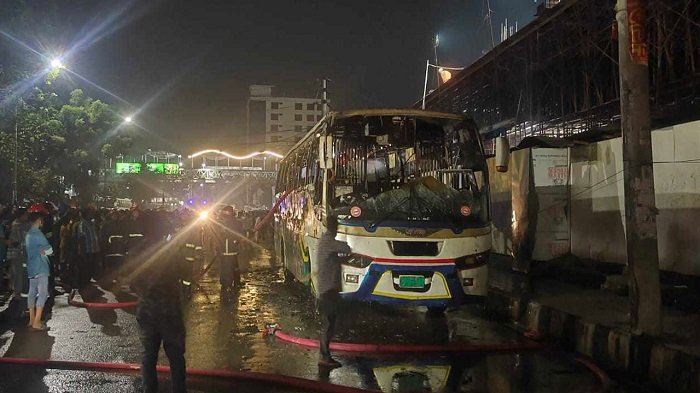 Six vehicles were torched across the country on the second day of the 48-hour blockade called by the main opposition BNP and like-minded parties.
Fire Service and Civil Defence duty officer Mohammad Ali confirmed this to media on Monday morning.
Of the vehicles, four were buses, one lorry and one was truck.
In Dhaka, a lorry was set on fire on Mugda Biswa road at 1:05am.
Around 2:40am, a bus belonging to Balaka Paribahan was torched at Sayedabad Janapad intersection
Miscreants set a bus of Projapoti Paribahan on fire at Abdullahpur Polwel Market at 9:06am.
A bus of Itihas Paribahan was torched in Mirpur-6 section around 5:30am, the duty officer added.
In Faridpur, miscreants set a bus of 'Saudia Paribahan' to fire in Notun bus stand area at 2:42am and a truck was torched at about 5:39am in Ananda Sagar area adjacent to Dinajpur's M Abdur Rahim Medical College.
No one was injured in the incidents, the fire service official said.