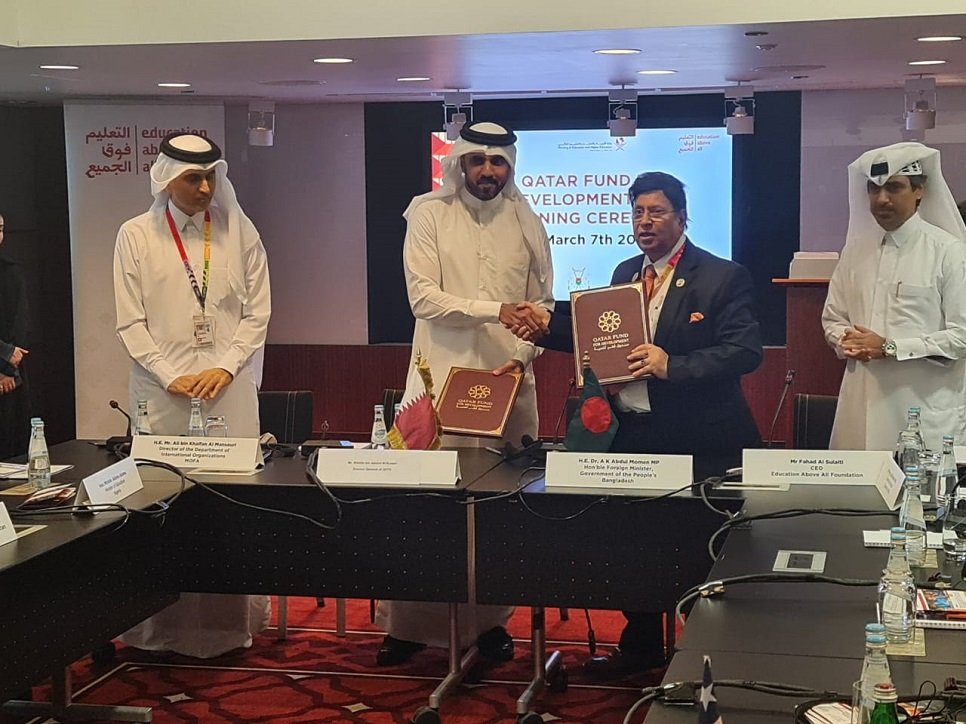 Qatar will provide 1.27 million US dollars to Dhaka through Qatar Fund for Development (QFFD) to support Bangladesh's education sector through expanding opportunities for 6.5 lakh out of school children at primary level.
A Memorandum of Understanding (MoU) between Bangladesh and Qatar was signed in under the project Education Above All Foundation during the sidelines event of the UNLDC5 conference in Doha on Tuesday, a foreign ministry press release said here today.
Foreign Minister Dr A K Abdul Momen and QFFD Director General Khalifa Bin Jassim Al Kuwari inked the deal on behalf their respective sides at a hall of the Qatar National Conference Center.
The foreign minister was delegated to sign the contract on behalf of the Bangladesh's Ministry of Primary and Mass Education, the implementing body to utilize the fund.
Education Above All is an outreach program conducted in some countries in the Middle East, Africa and Asia under the QFFD having an annual budget of 600 million dollars.
The signing of the MoU is considered a milestone to access finance to Qatar development fund, said the foreign ministry.
Qatar government aims to provide this assistance to the LDCs to fullfil their SDGs-2030 as part of its commitment to international cooperation under the Qatar national vision 2030, it added.