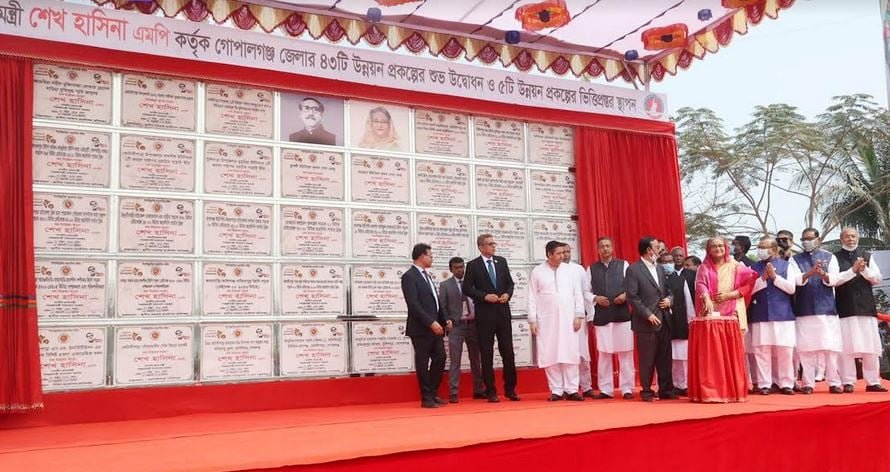 Prime Minister and Awami League (AL) President Sheikh Hasina has inaugurated 43 development projects and laid foundation stones of five other projects at a cost of Tk 329 crore to ensure overall development of her home district Gopalganj.
She inaugurated the projects on Saturday after unveiling a plaque by pressing a button at a grand public rally organised by Kotalipara Upazila AL on Talimpur Telihati High School ground.
Senior AL leaders accompanied her while inaugurating the development schemes.
Earlier, On her arrival at the rally venue at 12:40pm, the mammoth gathering warmly welcomed the premier by chanting slogans as she, in reply, waved her hands to the crowd.
A festive mood was prevailing across the district centring the arrival of the prime minister to Kotalipara.
Sheikh Hasina, who is also the Member of Parliament (MP) of the Gopalganj-3 (Tungipara-Kotalipara) constituency, addresses the public gathering four years after she spoke at an election rally on December 12, 2018.
The 43 development projects include two rural piped water supply schemes – one at Dumuria union in Tungipara upazila and another at Ramshil union in Kotalipara upazila, 24-meter RCC girder bridge on Gopalpur UP Office-Kajulia UP via Boraihati Polshair Bazar Road and 99-meter girder bridge on Kushli GC-Dharabashail GC via Mitradanga, Sonakhali Road in Tungipara upazila, four-storey Shuagram Bohumukhi High School at Kotalipara, three-storey girls hostel (100 beds) at Sheikh Hasina Adarsha Degree College at Kotalipara, four-storey academic building of Kotalipara SN Institution, Kotalipara Poura Kitchen Market and Sheikh Russel Library at Bhangarhat Talimpur Telihati High School in Kotalipara upazila built by Kotalipara Upazila Parishad, 'Mukta Manch' in the ancestral home of poet Sukanta Bhattacharya in Kotalipara, flood shelter centre at Uttar Kotalipara Rammohon High School in Kotalipara, one-storey commercial building having 10-storey foundation at Boro Bazar in Gopalganj Sadar.
The prime minister laid foundation stones of Gopalganj Zilla Tathya Complex Bhaban and Kotalipara Model Mosque and Islamic Cultural Centre under Public Works Department, Radhaganj Union Bhangarhat Bazar Development and Mural Construction on 1971 Liberation War in Kotalipara Upazila under Local Government Engineering Department and building of Father of the Nation Bangabandhu Sheikh Mujibur Rahman's mural at 11 union parishads under Kotalipara Upazila Parishad.