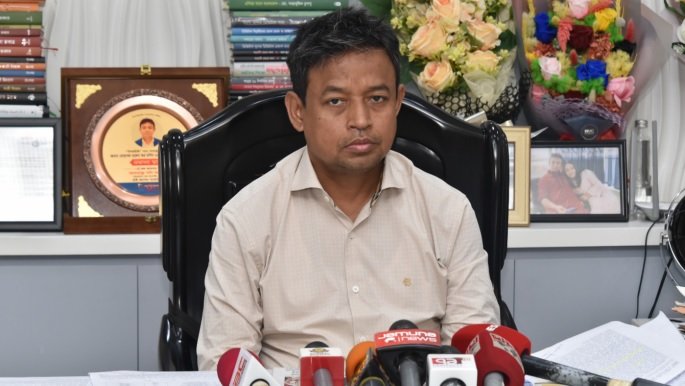 Additional deputy commissioner (ADC) of Police Harun Ar Rashid, who has been recently suspended after beating two BCL leaders mercilessly, was first attacked by assistant press secretary (APS) to the President, said DMP additional commissioner and Detectibe Branch (DB) chief Md Harun Or Rashid.
Talking to reporters at his office on Tuesday (September 12), the DB chief said President Mohammed Shahabuddin's APS Azizul Huque Mamun had first attacked the suspended ADC inside the Birdem General Hospital.
The incident of torturing the Bangladesh Chhatra League leaders had originated from there, he added. "It should also be investigated."
DMP additional commissioner Mohammad Harun said, "He (APS Mamun) is a government official. He was the person who made the first attack on ADC Harun. He could have informed the higher authorities of the police if he wished. Or he could inform his superiors.
"But instead, he chased a police officer in front of sick people inside the hospital. Broke ADC Harun's sunglasses, and subsequently hit him. I don't know if he has done the right thing or not, but this should also be investigated."
The DB chief said, "The whole police force never takes responsibility for individual's actions. I think the investigating officer will independently investigate the incident and submit a report.
A three-member inquiry committee is investigating properly and impartially. The investigation report will be issued soon. Then we will know the real facts. If the ADC is found responsible in the investigation, action must also be taken against him."
The Public Safety Division under the Ministry of Home Affairs on Monday afternoon issued a circular suspending ADC Harun. The decision was made just a day after he was transferred to the Armed Police Battalion (APBn) following allegations of assaulting two central BCL leaders.
On Saturday evening, ADC Harun took BCL central organising secretary Anwar Hossain Nayeem and BCL science affairs secretary Sharif Ahmed Munim to Shahbagh Police Station following an altercation with the President's APS Mamun at the Birdem Hospital and then he along with other policemen assaulted them.
The incident caused anger among BCL leaders and many posted on social media criticising ADC Harun and demanded action against him.