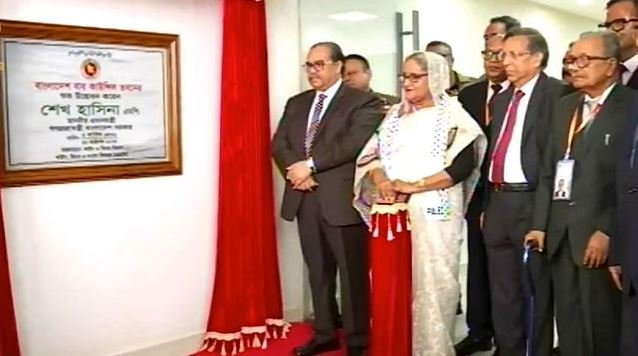 Prime Minister Sheikh Hasina on Saturday inaugurated 15-storey newly-constructed Bangladesh Bar Council Bhaban at a cost of Taka 138 crore in the capital city.
She opened the Bhaban after unveiling the inaugural plaque built at a place adjacent to the High Court (HC) as the chief guest, reports UNB.
Earlier, on her arrival at the venue, Chief Justice Obaidul Hassan and Law, Justice and Parliamentary Affairs Minister Anisul Huq received the premier with a flower bouquet.
The Bhaban has housed spacious office space, meeting room, two conference rooms, record room, store room, waiting area, cafeteria, day-care centre, exhibition space, registration room, bank, accounts section, IT section, among other facilities.
Built under the supervision of Law and Justice Division and designed by the Department of Architecture, it has five tribunal rooms, multipurpose hall and separate prayers room.
More than hundred lawyers will be able to be in the Bar Bhaban with TV lounge, kitchen and dining hall.