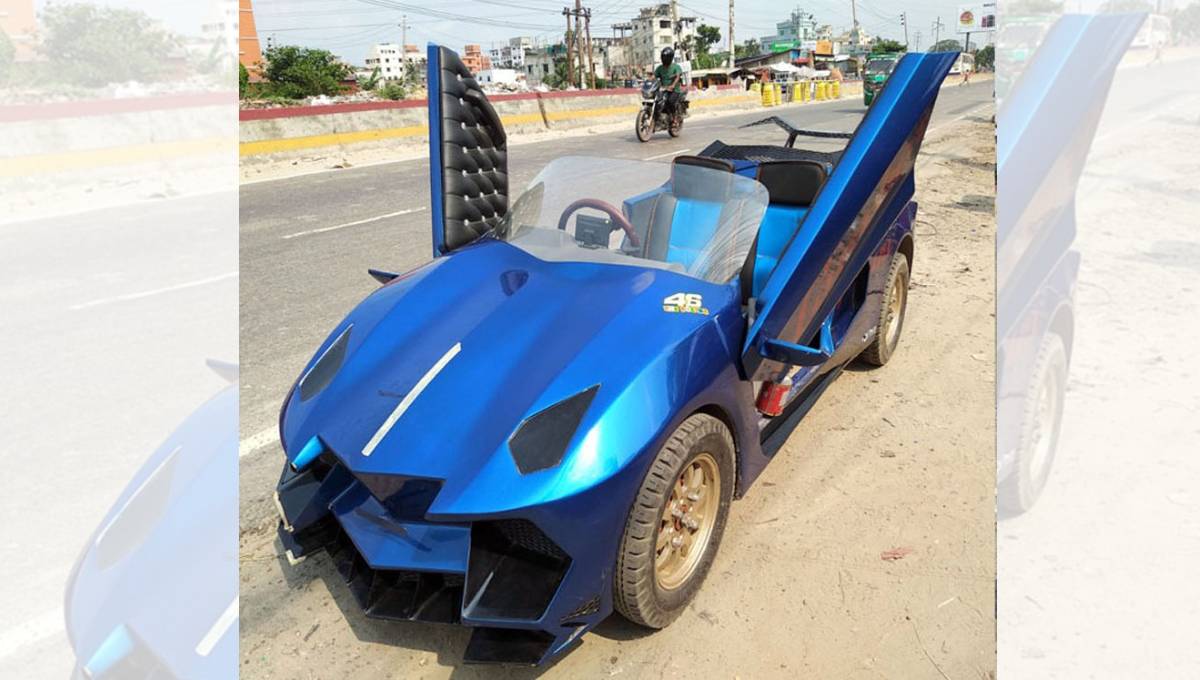 Narayanganj, June 17 : At first sight, it looks like a gorgeous imported sports car. At most, some may think it was assembled in the country after importing foreign materials.
But a youth named Akash, a resident of Narayanganj, actually built the car from scratch at a workshop here using completely domestic technology. This is a battery-driven car which can carry a passenger along with the driver at a maximum speed of 45 km per hour.
That may not say much for its prowess, but in a country lacking a domestic automobile industry, it is still a laudable achievement on the part of Akash, son of Nabi Hossain from Fatullah's Lama Para.
From childhood, Akash had dreamt of building a car by himself.
The project of making the car was initiated one and a half years back when Akash's father allowed him to proceed. He drew a design inspired by Italy's famed Lamborghini sports car and started working as planned.
He purchased steering and wheels from the market. Apart from these, all the materials – including suspension, lights and gear – were prepared by cutting steel plates in his father's auto-rickshaw workshop. YouTube tutorials helped him in some cases.
Five batteries have been installed in the car which can last up to 10 hours. These batteriesare fully charged within only5 hours.
The cost of building the car wasTK 3.5 lakhs. If carbon fiber is used in the body, the cost will be reduced to TK 3 lakhs, Akash said.
Having no experience, he faced numerous problems while building the vehicle. But he was determined to fulfill his mission.
Eventually, when he brought the car out of the workshop during Eid, he received an unexpectedly positive response from the people.
"My son built this car. But people are reluctant to believe it. That is up to them. But I request them not to be harmful to my son,'' said Akash's father.
Asked about the next step, Akash said he does not want to sell the blueprint to anyone. "I would like to request the government to allow me to sell the car in market," he said.
He has already got more than 25 orders for the environmentally-friendly electric cars. If the vehicle is marketed, people can buy it at only Tk 4-4.5 lakhs, he added.