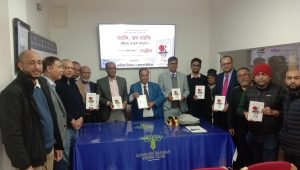 By Muhammed Shahed Rahman:
Journalist-writer Ujjwal Mehedi's book publication ceremony in London and 'Barki, John Barki' book and former General Secretary Chamir Mahmud's reception at Sylhet District Press Club were held in the presence of a large number of writers, journalists, cultural workers, politicians and community activists.
On Sunday (March 12, 2023), the Monthly Billet and Runner Media were held at the office of London Bangla Press Club under the direction of Billet Editor Saim Chowdhury. 
Commonwealth Journalists Association Vice President Syed Nahas Pasha presided over the event. 
Asom Masum, Founder of Runner Media delivered the welcome speech on the occasion.
Ashikunnabi Chowdhury, Press Minister of Bangladesh High Commission in UK spoke as the chief guest in the event.
In the speech of the chief guest, Ashiqunnabi Chowdhury said – Britain's connection with the book 'Barki, John Barki' is strong. This book needs to be translated into English and disseminated to British society. 'Barkey, John Barkey' will help to know many unknown facts of the British colonial period.
Ashikunnabi Chowdhury also said that there is a kind of infatuation in the writings of the writer Ujjal Mehdi. The language style of reading and viewing pictures is in Ujjwal Mehdi's Barki, John Barki book. Journalist SM Ali had the same magic of writing. Ujjal Mehdi is the successor of journalist SM Ali.
About journalist Chamir Mahmud, he said, you have been felicitated today, it means that you will return to Sylhet with an important responsibility. Go to the country and talk about this visa. Talk to foreign journalists. Bilet Media managing editor Mizanur Rahman Miru welcomed journalist Chamir Mahmud with flowers. On this occasion, under the leadership of General Secretary Taisir Mahmud of London Bangla Press Club, the club leaders and members handed over the gift bags of the press club.  Among others who spoke – journalist Ansar Ahmed Ullah, former president of UK Bangla Reporters Unity, former general secretary of London Bangla Press Club, leader of Max Media, journalist Abdus Chattar, writer and poet Hamid Mohammad, former speaker of Tower Hamlets Council Ahbab Hossain, communication officer of Tower Hamlets Council Mahbub Hossain, London Bangla Press Club General Secretary Taisir Mahmud, London Bangla Press Club Treasurer Saleh Ahmed, Event Secretary Emran Ahmed, First Executive Member Ahad Chowdhury Babu, online 26th TV leader Jamal Khan.