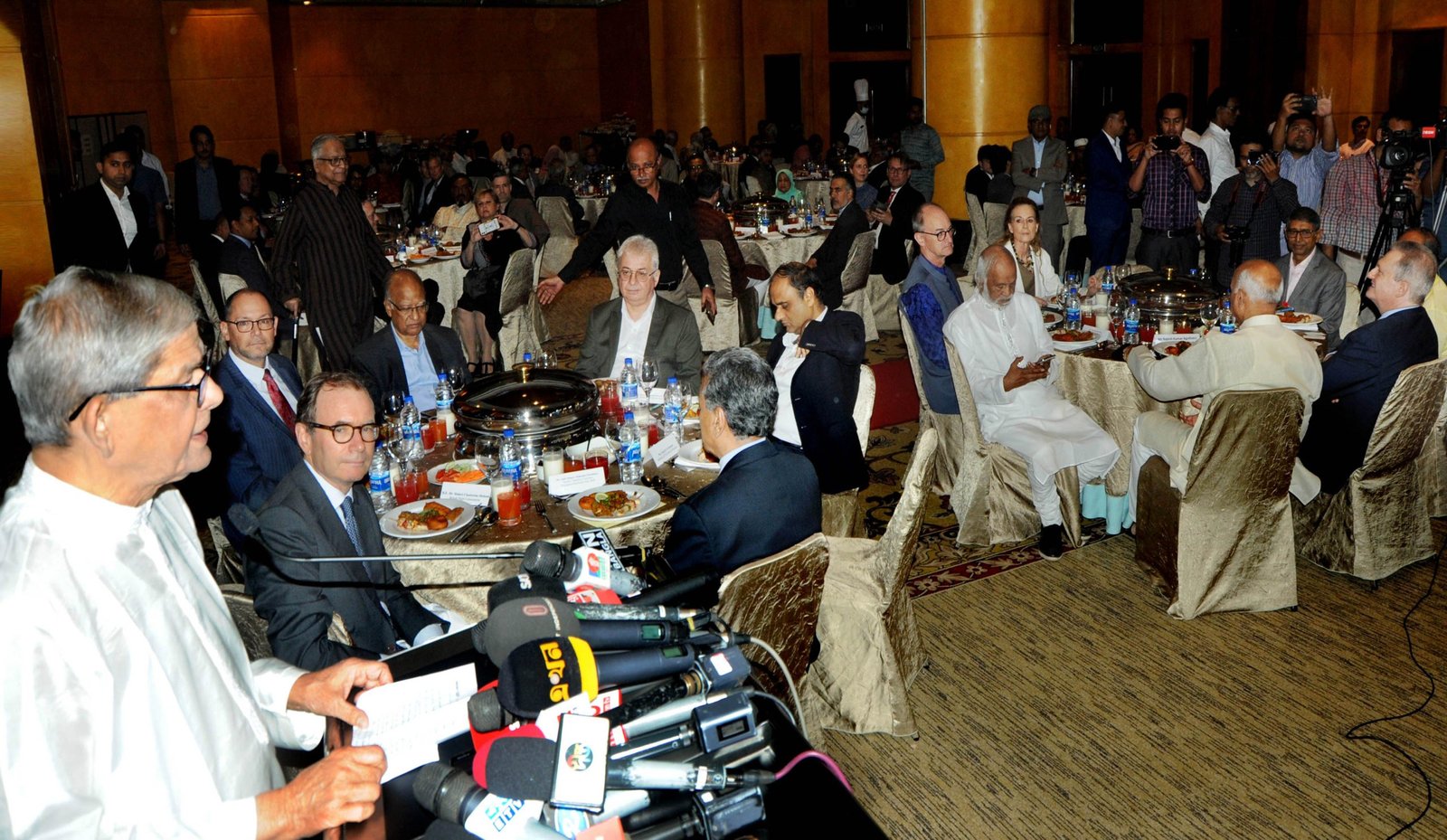 BNP secretary general Mirza Fakhrul Islam Alamgir has said their party has been carrying out a fight against the current 'autocratic' regime for the restoration of democracy.
Seventeen leaders and activists have already sacrificed their lives in the ongoing movement while 35 lakh others have been facing 'false and fake' cases, said Fakhrul at an iftar party on Thursday at a hotel in the capital in honour of foreign diplomats posted in Bangladesh.
Ambassadors, high commissioners, mission chiefs, charge d' affairs and other envoys from different countries attended the iftar.
Before the iftar, BNP secretary general Mirza Fakhrul Islam Alamgir exchanged pleasantries with the guests at the party.
In a brief address, he said their party chairperson Khaleda Zia used to host an iftar for foreign diplomats during Ramadan every year, but she has now been serving on "fake and false" charges.
He also said their party's acting chairman Tarique Rahman has also been in exile in London facing 'false' charges. "So we're observing the holy Ramadan this year with a heavy heart."
Fakhrul said several hundred leaders and activists of BNP were the victims of enforced disappearances while over a thousand were killed during the tenure of the current 'autocratic' Awami League government for raising the demand for the restoration of democracy.
"At this moment before the iftar, we pray for freedom, democracy, peace and prosperity for the people of the world, especially for the people of Bangladesh," he said.
A munajat was offered before the iftar seeking divine blessings for the peace and progress of the country and the welfare of its people.
Foreign envoys from 30 countries, including US Ambassador Peter Haas, British High Commissioner Robert Chatterton Dickson, Russian ambassador Alexander V. Mantitsky, Pakistani High Commissioner Imran Ahmed Siddiqui, Iranian Ambassador Mansour Chavoshi and Deputy High Commissioner of India Binoy George, and the representatives from the UN, European Union and different international bodies, participated in the programme.
Educationists A F M Yusuf Haider, Prof Mahbub Ullah, Prof Borhan Uddin, former Bangladesh Bank governor Salehuddin Ahmed, Manabzamin editor Matiur Rahman Chowdhury, Inqilab editor AMM Bahauddin, BNP standing committee members Khandaker Mosharraf Hossain, Mirza Abbas, Abdul Dr Moyeen Khan, Amir Khosru Mahmud Chowdhury, and Selima Rahman and vice-chairmen Abdullah Al Noman, Shahjahan Omar, Hafizuddin Ahmed, Altaf Hossain Chowdhury, Abdul Awal Mintoo, M Barkatullah Bulu, Mir Nasir, AZM Zahid Hossain, Ahmed Azam Khan and Netai Roy Chowdhury, among others, were present.