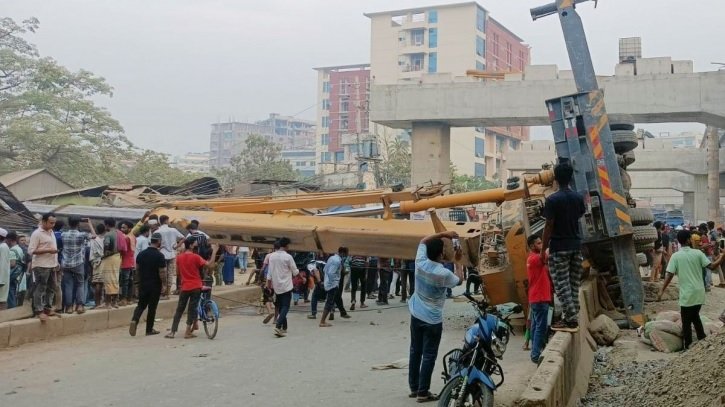 At least five persons of a family were injured when a crane of the Dhaka Bus Rapid Transit (BRT) project fell on roadside shops and slums at Station Road in Tongi on Saturday.
At that time, the movement of vehicles on one side of the Dhaka-Mymensingh Highway remained suspended for some time after the accident that took place at around 5:00pm.
The injured were sent to a nearby hospital immediately. The identities of the injured could not be known.
Ashraful Islam, officer-in-charge of Tongi East Police Station, said, "During the project work on the Dhaka-Mymensingh Highway on Saturday afternoon, a crane suddenly fell on roadside shops and slums, leaving the five people of a family injured."
He said the crane was being used to lift girders and iron made equipment on the bridge. The injured were rescued and taken to a nearby hospital. Two cranes were brought at the spot to conduct rescue operations.
BRT Project Director Mahirul Islam said he had learned about the incident but could not give details.
"We have ensured treatment of the injured and arranged alternative ways to keep the traffic movement smooth. We will remove the crane from the highway soon," he added.
Earlier, five people were killed when a crane carrying a girder fell on a car in Uttara on August 15 last year.