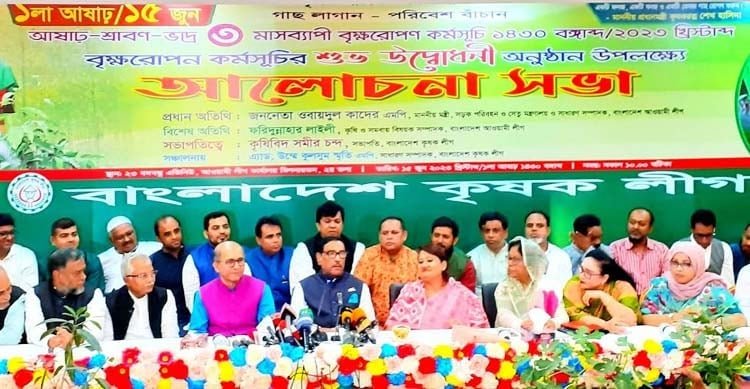 Awami League (AL) general secretary Obaidul Quader on Thursday said BNP Secretary General Mirza Fakhrul Islam Alamgir should apologise for his negative comments on the country's fair elections.
"Withdrawing his comments, Mirza Fakhrul must seek apology for his negative comments on the country's fair elections," he told a discussion in Dhaka, BSS reports.
The discussion was organised by Bangladesh Krishak League at the AL's Bangabandhu Avenue central office this morning on the occasion of inauguration of a three-month tree plantation programme.
Quader, also the Road Transport and Bridges Minister, questioned how Fakhrul made such an indecent and poisonous statement over the country's electoral system.
"Did he not see the elections of Gazipur, Barishal, Khulna and Cox's Bazar? How did he (Fakhrul) make an indecent statement?" he asked.
The AL general secretary said, "What will the US visa policy do here after the use of this absolute indecent word as it is an obstacle to fair elections?"
Informing that BNP men vandalised Bangabandhu's photo in Chattogram, he said, "Many are talking from abroad today but what steps they world take? Is it not an impediment to fair election? Who did it? BNP and its allies committed the offense."
Demanding exemplary punishment for those involved in vandalism of Bangabandhu's photo, Quader said if they are arrested, they (BNP leaders) will say that human rights are being violated.
Responding to another comment of Mirza Fakhrul, he said as BNP failed in all movements, late Zafrullah Chowdhury called BNP a knee-broken party.
"Our knees are not broken, our knees are not trembling. BNP leaders' knees have also started shaking in fear of defeat in elections," he added.
The AL general secretary said the ruling Awami League is not afraid of anyone as the AL leaders have the power of faith and patriotism.
"The AL's source of strength is the people of this country," he added.
Quader alleged that the BNP leaders shout in the name of politics, make falsehood and complain to foreigners so that Bangladesh falls in trouble.
He said today plot is underway over the elections of Bangladesh at home and abroad, and lobbyists have been hired spending millions of Taka.
The road transport and bridges minister said a letter of six members of the European Union and six congressmen of the United States read that human rights are being violated in Bangladesh and fair elections must be ensured.
"The country is ours but the headache is theirs," he said.
AL agriculture and cooperative affairs secretary Faridunnahar Laili and Krishak League general secretary Advocate Umme Kulsum Smriti, among others, spoke at the meeting with Krishak League president Samir Chandra in the chair.
Later, Ouader distributed saplings among the presidents and general secretaries of various district units of Krishak League.