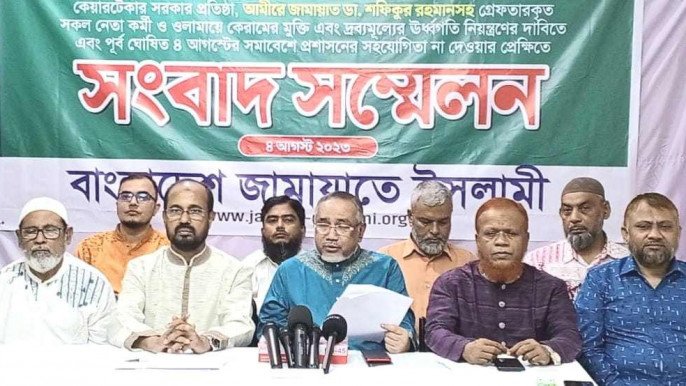 Bangladesh Jamaat-e-Islami has announced that the party will stage demonstrations at all divisional cities on Sunday (August 6).
The party after failing to get permission from the Dhaka Metropolitan Police has postponed its Friday's programme at Suhrawardy Udyan to press home its demand of holding the next parliamentary election under a caretaker government.
Jamaat-e-Islami Nayeb-E-Ameer Dr Syed Abdullah Mohammad Taher at a press conference on Friday morning announced to hold protest rally on Sunday in all divisional cities of the country.
He said they want to hold a peaceful rally demanding an immediate establishment of the caretaker government system for a free and fair election.  He also demanded the release of Jamaat Ameer Dr Shafiqur Rahman and all the arrested leaders, activists and clerics.
Earlier, Jamaat-e-Islami postponed its August 1 rally at the north gate of Baitul Mukarram National Mosque after failing to secure permission from the police and sought cooperation from the Dhaka Metropolitan Police in holding a peaceful rally at the Suhrawardy Udyan in the capital on Friday.
But DMP denied Jamaat permission to hold the rally in Suhrawardy Udyan.