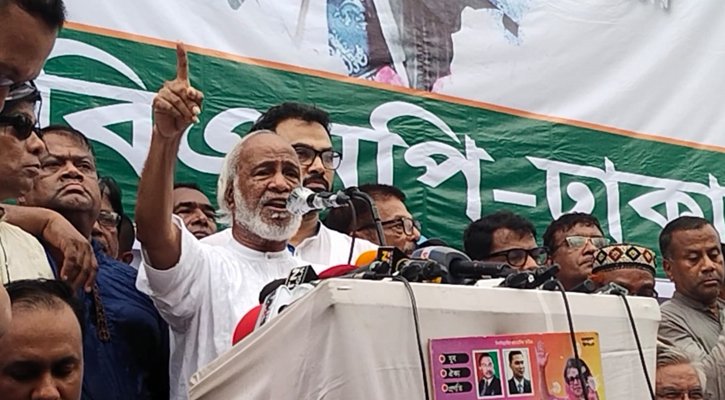 Bangladesh Nationalist Party (BNP) standing committee member Dr Abdul Moyeen Khan has said Awami League does not believe in democracy though it talks about it. They (Awami League) wants to lengthen its power resorting to jail, oppression, arrest, cases, torture, enforced disappearances and murders. But, people of the country will not let that happen again, he said.
Moyeen Khan said this while speaking as the chief guest at a rally organised on the occasion of BNP's 45th founding anniversary in front of the party's central office at Nayapaltan in the capital on Friday afternoon.
"We will bring the voting rights of people, democracy, and people's rights back through our struggle on the street," he said.
The BNP leader said, "We will free BNP Chairperson Begum Khaleda Zia from house arrest and bring our acting chairman Tarique Rahman back to the country from abroad soon. We will bring a democratic government back to power unseating this undemocratic and autocratic government through a peaceful movement."
Moyeen Khan said, "Shaheed Zia formed the BNP with the aim of returning democracy and rights to the people of Bangladesh. Today, the government has destroyed the democracy. We are agitating for a one-point movement to bring it back."
"Today, the founding anniversary is a joyful day for us, but our main goal is the street movement. BNP will leave the street by restoring democracy and returning people's rights. The people of the country will surely win this movement under the leadership of Tarique Rahman," he said.
BNP made a massive showdown centering its 45th founding anniversary. At that time, Kakrail to Ittefaq crossing area became crowded with thousands of party leaders and activists. Leaders and activists of the party joined the rally with various musical instruments.
Dhaka City South and North BNP jointly organised the rally.