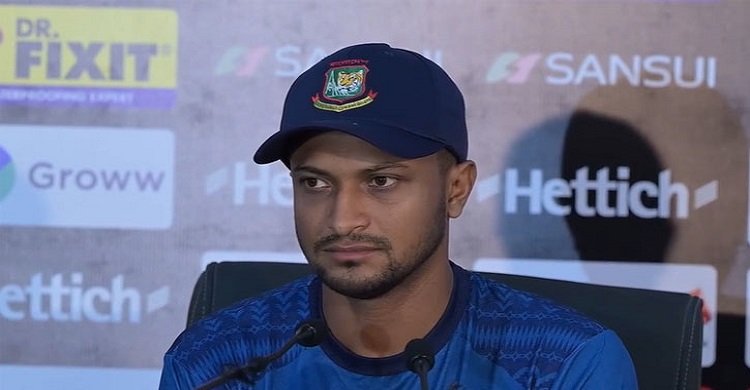 Despite going on to the Asia Cup with big hope under the leadership of ace All-rounder Shakib Al Hasan, Bangladesh went down with continuous failure. Shakib took responsibility after Tamim Iqbal resigned as a captain a few days before the tournament.
But the team won only the match against Afghanistan under his leadership, creating huge criticism among cricket fans and analysts over the issue.
After suffering successive defeats against Pakistan and Sri Lanka in the first two games of the Super Four, Bangladesh were eliminated from the continental tournament. As a result, their last game against India has become a match of formality.
Speaking to reporters on the eve of the game on Thursday, Shakib said though everyone expects him to carry the bulk of the responsibilities being the most experienced player in the team, he was confident of his teammates doing well, although he did mention that some of them need to hit the straps.
Shakib said, "Look, the responsibility does not lie on my shoulder because everyone has some kind of responsibility. I am sure everyone will work to fulfill his part and if everyone can contribute only then we have a good chance to do well, and if we can add all the individual performance together only at that point we can do well. They haven't contributed that much and they know that. They are trying to do that."
"I think Raj bhai (national selector Abdur Razzak) said one good thing that day, which is that those who are playing in the national team are doing so because they are capable. Here experience or inexperience or new and old does not come into the equation. If we can play well as a team it would be good for us," he said.
Although they cannot progress any further in the competition, Shakib said they still have a lot of things to play for considering a win against India will boost their confidence going forward. "Yes, there are things to gain. If we can win the last match before returning to the country it would be a good thing. We do not want anything else from the match, just the win will do."
Bangladesh take on New Zealand next in a three-match ODI series at home, and Shakib said the team will look to put behind the disappointment of not having done well in the Asia Cup. "I do not know (whether Asia Cup performance will affect us or not). Yes, it is disappointing that we have not batted as well as we would have liked but we may be able to comeback in the next series."