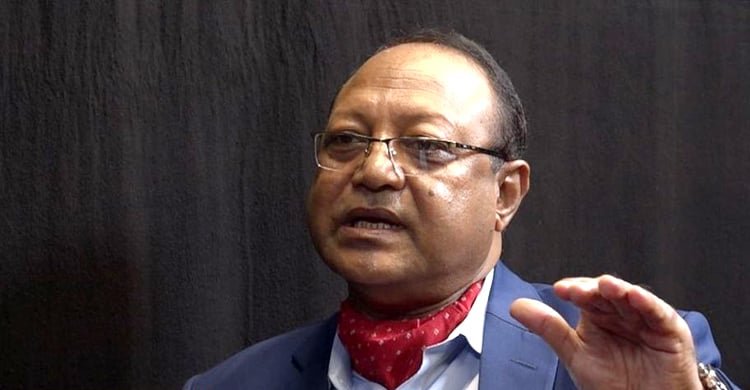 Police's detective branch (DB) today arrested former lieutenant general Chowdhury Hasan Suhrawardi, who allegedly prompted Bangladeshi US national Mian Zahidul Islam Arefy to address a BNP press briefing identifying himself as a so-called "adviser" to US President Joe Biden.
"We have arrested him from Savar and brought him to our DB office for initial interrogation and subsequent legal procedures," DB chief Mohammad Harun-or-Rashid told BSS.
Harun, an additional commissioner of Dhaka Metropolitan Police (DMP), said the former general was arrested in connection a case filed with Paltan Police Station.
The development came two days after police arrested Mian Zahidul Islam Arefy from Hazrat Shahjajal International Airport as he was trying to depart Bangladesh.
On Saturday Suhrawardi escorted Arefy to the BNP's central Naya Paltan office where he spoke before a group of reporters alongside party activists, identifying him as a close Biden advisor and "member of (US) national democratic committee".
Arefy assured the briefing of Biden administration's support for regime change in Bangladesh while Suhrawardy and BNP leader Ishraque Hossain sat beside him along with some other junior party leaders.
"I am a member of the national democratic committee . . . we have a hot connection . . . Joe Biden and me exchange text message 10 to 15 times a day," he was heard saying in English when some junior party leaders were also present.
Arefy, who grew up in Pabna district, commented that Bangladesh almost became Sri Lanka in terms of economic crisis while soon it would become a state of India if the Awami League regime continued in power.
He claimed that US visa sanctions or restrictions on Bangladeshi law enforcement agencies were outcome of his efforts while he would ensure sanctions against Home Minister Asaduzzaman Khan Kamal, Law Minister Anisul Huq and more law enforcement forces and their officials as well.
Later in initial police interrogation, Arefy claimed he was prompted by Suhrawardy to make the comments who took him to the BNP office as well.
"He (Sarwardy) encouraged anarchy by doing so (prompting Arefy)," the DB chief said.
Harun said police would brief the media what prompted Suhrawardy to stage the drama after his initial interrogations.
Arefy was taken to prison to await trial as an imposter under a court order on a police case in which the former general was made the accused no 2.
Hours before Suhrawardy's arrest, Prime Minister Sheikh Hasina said she issued an order to arrest him to be exposed to justice for his act.
"He will not be spared," the premier said replying to a question at press conference at her Ganobhaban official residence.
Sarwardy previously served as the director general of elite Special Security Force (SSF) designated to provide VVIP security, general officer commanding of army's Savar-based 9 Division and the head of the National Defence College (NDC).
After his retirement the army declared him persona non grata to the country's military installations.