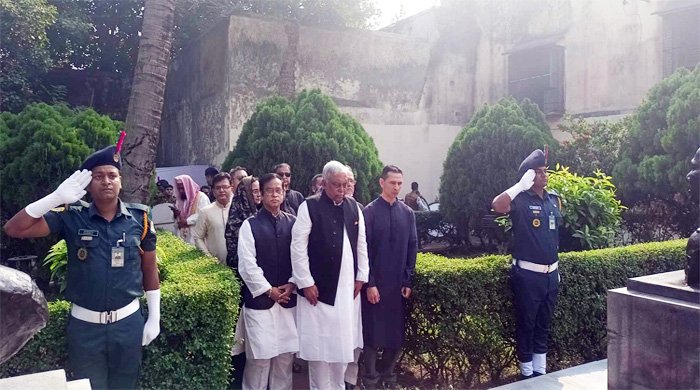 The Jail Killing Day is being observed in the country on Friday with due solemnity.
The Awami League (AL) and its affiliate organisations have paid tribute to the four national leaders who were assassinated 48 years ago on Jail Killing Day.
Awami League General Secretary Obaidul Quader, on behalf of Prime Minister Sheikh Hasina, paid tribute to the four leaders at the mural of Bangabandhu at the Bangabandhu Bhaban in Dhanmondi at 7:30 am. He was later joined by other Awami League leaders to pay their respects.
Afterwards, leaders of the ruling party visited the Banani Graveyard, where they paid their respects to the family members of Bangabandhu, who were assassinated on August 15, and the national leaders who were killed in jail on November 3. A special prayer was also held there.
Home Minister Asaduzzaman Khan Kamal paid homage by placing wreath on the sculptures of four national leaders at the old central jail in Nazimuddin Road in the capital at 9.40am. Family members of the slain leaders were also present there.
On November 3, 1975, four leaders of the wartime national government — acting President Syed Nazrul Islam, Prime Minister Tajuddin Ahmad and cabinet ministers M Mansur Ali and AHM Quamruzzaman — were assassinated inside the Dhaka Central Jail. The day has since been remembered as Jail Killing Day.
They were murdered while in state custody as the country witnessed sweeping changes in politics amid the chaos that followed Bangabandhu Sheikh Mujibur Rahman's assassination on August 15, 1975.
The nation is remembering the four national leaders, who were also the great heroes of the Liberation War in 1971, on Friday with due respect.
On Friday, the AL central office, Bangabandhu Bhaban and other Awami League offices across the country lowered the national flag and party flag to half-mast, while black flags were hoisted as a symbol of mourning.
Various Awami League affiliated organisations, as well as social, political, and cultural groups, also paid tribute to the national leaders. In Rajshahi, homage was paid at AHM Quamruzzaman's grave.
Awami League and different political parties is also observing the mournful day across the country wearing of black badges and hoisting of black flag are also included in the programme.
AL will arrange a discussion at Bangabandhu International Conference Centre (BICC) in the city at 3pm. Awami League President and Prime Minister Sheikh Hasina will preside over the meeting.
Awami League general secretary and road and transport minister Obaidul Quader in a statement urged the leaders-activists of all organizational units from upazila to district and associate bodies to observe the jail killing day with due respect.