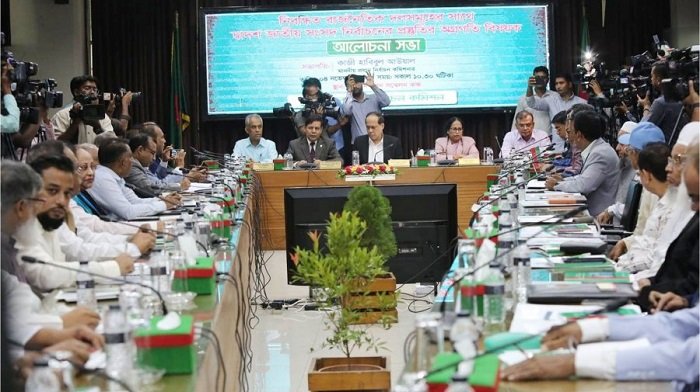 The Election Commission (EC) on Saturday started discussion with registered political parties to inform them about preparations for the 12th parliamentary election.
Chief Election Commissioner (CEC) Kazi Habibul Awal is presiding over the discussion at the Election Commission building in Dhaka's Agargaon.
BNP and several of its allies, including the Liberal Democratic Party (LDP), Biplobi Workers Party, Bangladesh Kallyan Party, and Jatiya Samajtantrik Dal (JSD), have decided not to participate in the discussion, reports UNB.
The Communist Party of Bangladesh (CPB), which is not in any alliance, is also boycotting the EC dialogue. Islamic Andolan Bangladesh, Khelafat Majlis, and Bangladesh Khelafat Majlis are among the Islamic parties that are boycotting the dialogue.
Thirteen registered political parties have joined the discussion while three are not joining. Meanwhile, the three parties did not inform the commission whether they will join or not. Ganatantri Party was not invited to the discussion.
The EC has scheduled two dialogue sessions. The first one began at 10:30 am today which will end at 1 pm, and another will be held from 3 pm to 4:30 pm.
The daylong discussion with the political parties is being held in two phases. The Election Commission invited the presidents and general secretaries of the parties or two representatives appointed by them for the dialogue.
Awami League Presidium Member Lt Col (retd) Faruk Khan and Information and Research Secretary Salim Mahmud are representing the party in the dialogue, said the party's Office Secretary Biplab Barua.
According to the constitution, parliamentary election must be held within 90 days before the end of the five-year term of parliament. The term of the current parliament ends on January 29, 2024 while the 90-day count starts from November 1, 2023.
The Election Commission said that it is preparing to announce the schedule of the national election in mid-November and hold the election in January.
Earlier in July 2022, the EC held a dialogue with the political parties to prepare the action plan for the 12th national election while few political parties including Bangladesh Nationalist Party (BNP) did not join the dialogue.