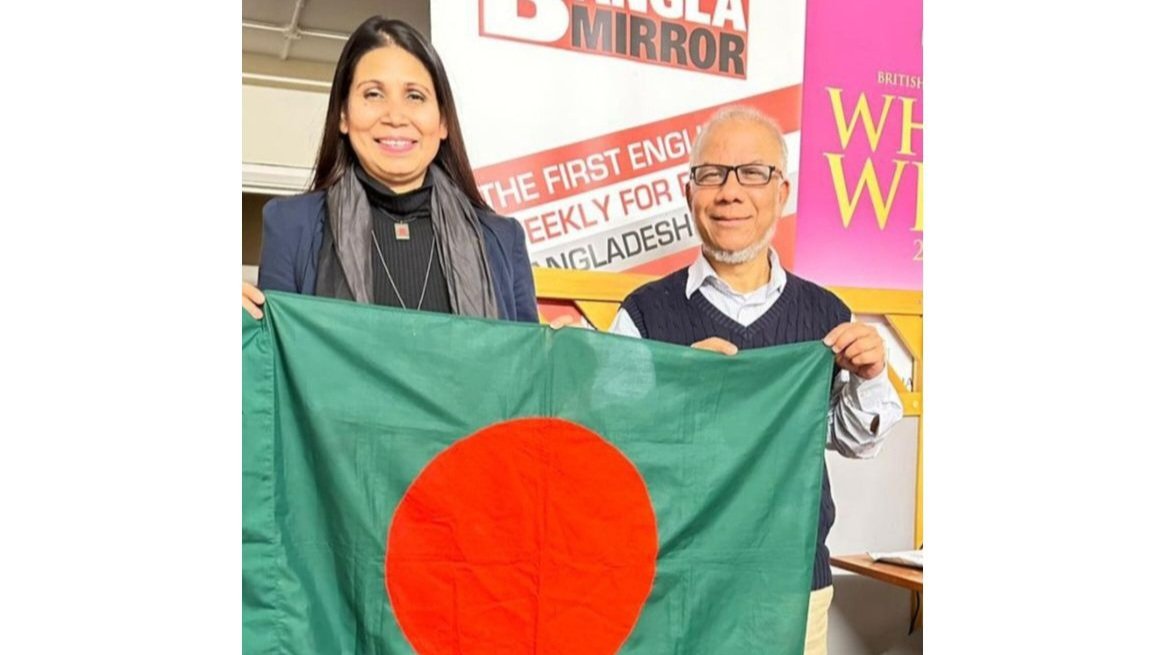 ■ Bangla Mirror Desk ■
Najmun Nahar recently attended a conference for 'Climate Vulnerability and Mental Health: Voice of Women' in common wealth Office London which was organised by Bangladesh High Commission uk.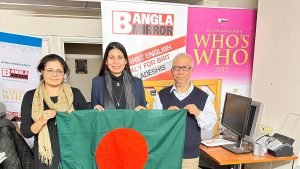 This is the seventh visit of Najmun Nahar in London, she likes to visit London as the Bangladeshi community is so integrated and welcoming.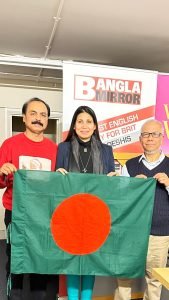 After attending the conference on the same evening on Tuesday 14th November she anticipated at British Bangladeshi Who's Who 2023 publication launching, awards and gala dinner.
It was an immense pleasure to have her presence at Bangla Mirror office today. On her visit to Bangla Mirror office it was discussed her next journey and future plans.
Read more about her story…
Najmun Nahar Shohagi: Bangladeshi globe trotter aims to travel 200 countries
While many girls and women of Bangladesh are facing challenges in diverse sectors like education, employment, basic rights, security, etc, a proud daughter of the country shocked the world with her amazing bravery. Najmun Nahar finally enlisted 167  countries to her profile by setting foot on Saotome and Principe, the riverine countries in Central Africa on October 6, 2021. It took her 21 years to set this world record. In a word, Najmun Nahar, a woman of determination and intelligence, is a real-life model to women in Bangladesh. This article is based on the story of her travels.
Najmun Nahar belongs to Bangladesh
Najmun Nahar was born in Laxmipur district of Chittagong. Father Mohammad Amin, a businessman. Mother Tahera Amin was the traveling companion of Najmun in 14 countries. Najmun is the youngest of eight siblings. She is known as Shohagi to the family.
Bangladeshi globetrotter Najmun Nahar makes history with 167th  country was Saint Lucia.
She completed her secondary and higher secondary education at Laxmipur town. Then she did her graduation and post-graduation in political science from Rajshahi University. Later, she came to Dhaka and worked as a journalist in an entertainment newspaper for a while. She moved to Sweden in 2006 after receiving a scholarship for higher education. There she earned a master's degree in Asian Studies from Lund University. She also studied human rights and Asia at Seoul National University in South Korea.
During her career, she has worked as a researcher on research projects at various international organizations. Besides, she was a volunteer in the Bangladesh Girls Guide Association from 1997 to 2011.
Being unmarried, this strong and dignified woman dares to move forward to fulfill her dream of visiting the world. Not to mention, the continuous success stories of this 41-year-old traveler brings limitless praises for her motherland and elevated the status of the country to a new altitude.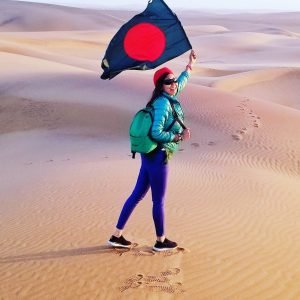 Dream-chasing Najmun Nahar recognised by Fobana
The Backdrop of Najmun Nahar becoming a world traveler
Najmun's Grandfather Alhaj Maulvi Ahmed Ullah, an Islamic Scholar, was also a traveler. Najmun used to amaze by listening to the stories of her father's Middle East journey. From school life the dream of traveling the world began to take root in her mind by travel books of local and foreign writers including Syed Mujtaba Ali.
Along with this, the inspiration came from her late father and siblings. As a result, she has got ample opportunity to develop her talent from adolescence. And this talent allowed her to travel to different parts of the country.
The first chance to set foot outside the country came while studying at Rajshahi University. A team led by her from Bangladesh Girls Guide Association was sent to an international adventure program in India. The conference of 80 Girl Guide Associations and Scouts of the world was held in Panchmari, Madhya Pradesh.
Visit Niladri Lake, Sunamganj: A Piece of Kashmir in Bangladesh
Najmun used to travel to a new country with whatever savings she could make from the part-time jobs. She had to work very hard to save the extra money to fulfill her traveling enthusiasm. On some days, she used to work from 17 to 18 hours straight. Najmun always kept a close eye on foreign travel and accommodation at a low cost.
During her higher education in Sweden, Najmun sailed to Finland with a few months' savings. And from then on her regular country tour started.
Najmun Nahar: A woman of determination
Her success was not always the bed of roses. Besides enjoying indescribable exciting moments, Najmun also had terrible experiences on many tours. From the 2008 Finland tour to the 2021 trip to Sao Tome and Principe, the journey was quite arduous.
Trekking to Ham Ham Waterfall, Moulvibazar: On the Way to Pass the Impassable
On a stormy afternoon, Najmun traveled by bus from Uganda to Rwanda along a narrow road through the swampy jungle. Najmun's life was almost on the brink of extinction in the sandstorm and insect bites in Sahara, Mauritania. She had to get accustomed to getting lost often in unfamiliar cities.
Once in Conakry, Guinea, she starved for 26 hours due to getting stuck in a dark mangrove forest. In the tribal areas of Ethiopia, she ate only raw meat for meals.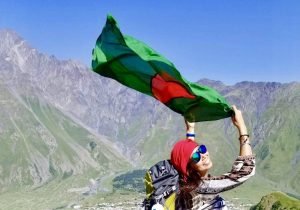 Najmun Nahar once fell from the Ala Archa mountain in Kyrgyzstan and was hanging from a wild tree. Thanks to two unknown hikers named Aymeric and Julian, they rescued her for good. The most terrifying experience of the mountain trip was climbing the Rainbow Mountains in Peru. As she climbed the 14,200-foot-high mountain, she began to have severe shortness of breath. The accompanying guide does not agree to move forward with her. Even then she said she would reach the top even if she died. However, an unknown hiker helped her with a liquid inhaler.
Visit Boga Lake, Bandarban: Natural pool from fairy tales or sleeping volcano
The experience of crossing the steep road from Sierra Leone to Liberia was not a pleasant one, as 11 deadly wells had to be crossed.
While scuba diving in the sea, the pipe leaked and saltwater got into her throat. A huge wave from Abidjan beach in Ivory Coast swept her away. The most terrifying voyages were the Great Barrier Reef and White Haven beach trips in Australia. As soon as they crossed the Sunday passage, their boat was caught by the crazy waves. The other passengers, including Najmun, were holding the rod of their boat tightly. Everyone felt that once their hands slipped, they would sink to the bottom of the waves.
Such horrible experiences could not affect the stamina of this brave woman. Najmun Nahar's audacity encourages many women travellers in Bangladesh and other countries of the world.
Most Scenic Public Parks in Dhaka City to Get Fresh Air
Achievement of Najmun Nahar for world travel
On December 6, 2020, the Tourism Minister of Maldives titled Nazmun as 'A brave symbol of women in the world'. In 2019, Najmun was awarded the Miss Earth Queen Award and the Youth Conference Globe Award at the Fobana Summit at the Nassau Colosseum in New York. In the same year, she received the International Peace Torch Bearer Award and the Daughter of the Earth from the Mr. Chinmoy Oneness-Home Peace Run Association of New York.
In 2016, Zambian Governor added the tag 'Flag Girl' to the name of Najmun Nahar.
Features about her were published in various significant print media at home and abroad.
Best Places in Dhaka for Photography Tours: Aesthetic Capital Captured in Frame
Moreover, she bagged the Red Crescent Motivational Award, Ananya Top Ten Dreams, Three Bengali Awards, Lakshmi Tarunya Award, Game Changer Award, Zonta International Club Award, Successful Women Award, and Atish Dipankar Gold Medal in the Outstanding Role for Women's Empowerment category.
Final word
The magnanimity of creation is not the only thing that can be found by getting close to Nature. Stylish diversity can also be felt deeply among people. Najmun Nahar dares to explore various countries around the world. Thus she makes a way to observe this ancient interaction between nature and man from closure. Najmun, who was born to travel, has made the whole world her home, where all frontiers get blurred. Best of luck to Najmun Nahar for her traveling to the 200th country.