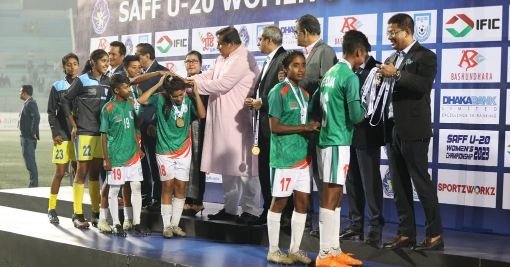 The Bangladesh Cricket Board (BCB) has congratulated the Women's Under 20 football team for winning the SAFF U-20 Women's Championship.
The team lifted the championship title for the first time after defeating Nepal 3-0 in the final in Dhaka Thursday.
"This victory is another shining proof that our women's football teams are the best in South Asia," BCB President Nazmul Hasan said in a media statement, UNB reports.
"The win is a continuation of the good work from last year's SAFF Championship triumph of the senior side. I have no doubt that performance like this will inspire and encourage women in all sports in Bangladesh," he added.
Before this U-20 competition, the Bangladesh team made history by clinching their first SAFF Women's Championship title last year in Nepal.