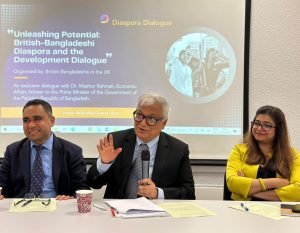 In the pursuit of Bangladesh's progress, a momentous dialogue was convened in London on Thursday to foster greater integration with the British-Bangladeshi community. The event, chaired by Councillor Saima Ahmed of Ilford Town and the Redbridge Labour Group, extended a warm welcome to Dr. Mashiur Rahman, the economic affairs advisor to the Prime Minister of Bangladesh who graced the occasion as the chief guest. Barrister Prashanta Bhushan Barua, the director of the Centre for Bangladesh Studies, took the stage as one of the key speakers and shed light on the pivotal role the British-Bangladeshi diaspora plays in shaping the future of Bangladesh.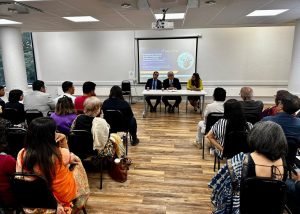 The engaging conversation commenced with thought-provoking questions posed by second and third-generation students of Bangladeshi origin in the UK, delving into their perspectives on Bangladesh. Notably, the event drew the active participation of exceptional professionals and influential community figures from British society. Dr. Mashiur Rahman, in his insightful speech, underscored the paramount importance of such dialogues and exchanges with policymakers from the diaspora community and expatriate Bangladeshis. He eloquently highlighted the expatriate-friendly policies championed by Prime Minister Sheikh Hasina and showcased the comprehensive progress Bangladesh has made under her leadership.
Appreciating the historical contributions of the British-Bangladeshi community across diverse domains despite confronting various challenges, Dr. Rahman firmly believed that harnessing their skills, expertise, and pragmatic demands would act as a catalyst in accelerating Bangladesh's development journey.
The event's participants concurred on the significance of nurturing a conducive environment, one that actively involves the British-Bangladeshi youth through investment, education-research initiatives, and cultural exchanges. By doing so, the government can effectively nurture integration, especially with the younger generation, ensuring a brighter and more prosperous future for both nations.