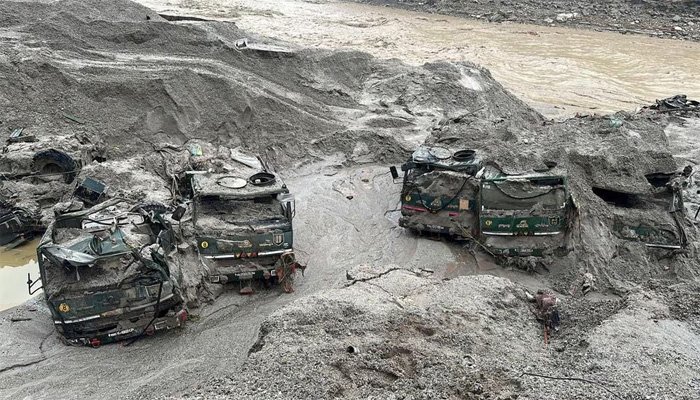 At least 40 people were killed after a glacial lake burst its banks and triggered flash floods this week in the Indian Himalayas, government officials told Reuters on Friday as rescuers searched for dozens missing for a second day.
The Lhonak Lake in the mountainous northeastern state of Sikkim overflowed on Wednesday after a cloudburst triggered torrential rains and an apparent avalanche, causing major flooding in the Teesta River, Reuters reports.
It is one of the worst disasters in the region in more than 50 years and the latest in a series of extreme weather events that have caused widespread damage in South Asia's Himalayas in recent years, blamed by scientists on climate change.
Authorities in Sikkim said the latest disaster, which came ahead of a popular festive and tourism season in the scenic state, had impacted the lives of 22,000 people.
Scientists and government authorities were working on an early warning system for glacial floods at Lhonak Lake which could have given people more time to evacuate if fully operational, officials involved in the project told Reuters.
Sikkim officials had put the death toll at 18 on Thursday evening. Officials in the neighbouring downstream state of West Bengal told Reuters that emergency teams recovered another 22 bodies that had been washed away.
An estimated 75 people were still missing.
"Water levels have receded in some areas but north Sikkim has been totally cut off. Relief teams are unable to reach the affected areas there," Tseten Bhutia, a state official, told Reuters by telephone. Mobile and landline phone networks were not working in the area, he added.
About 2,400 people have been evacuated so far and 7,600 people were in relief camps, Bhutia said. Private and government institutions have been closed in the area until October 15.
Fifteen bridges had been washed away in the state, hampering rescue operations. All bridges downstream of an NHPC (NHPC.NS) hydropower station Teesta-V have either been submerged or washed away, the Indian government said.
The army said it is planning to evacuate nearly 1,500 stranded tourists using helicopters as weather in the region improves.
Meanwhile, timesofindia reports, the Army, whose camps in the region suffered extensive damage in the flash flood early Wednesday, hasn't officially confirmed if any of its missing personnel are among the dead.
Most of the bodies were found downstream of the Teesta at places in neighbouring Bengal like Gajoldoba, Mainaguri and Kotwali in Jalpaiguri; Kuchlibari and Haldibari in Cooch Behar; and Milanpalli and the Teesta barrage in Siliguri. A few floating bodies were also retrieved from Galibandha in Bangladesh.
The body of an Indian Army soldier was recovered by local residents and the police from Kichamat Chhatnai Char of Dimla upazila in Nilphamari on Thursday.
As the location was close to the Indian border, the police informed the Border Guard Bangladesh (BGB), who in turn contacted the Indian Border Security Force (BSF). A joint team of BGB and BSF confirmed the body's identity as an Indian Army personnel.
The BGB handed over the soldier's body to the BSF through a flag meeting on Thursday afternoon. However, the soldier's identity was not immediately disclosed.