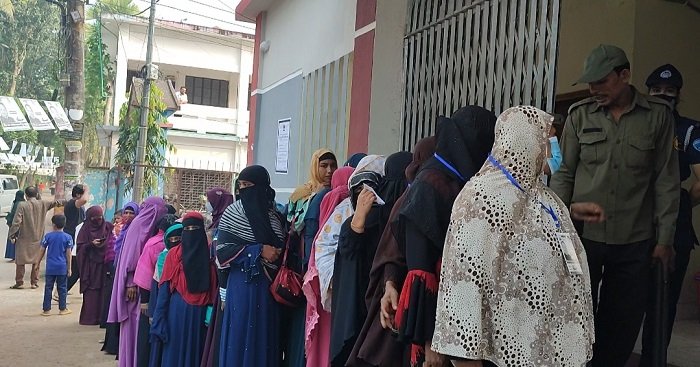 The by-elections to Brahmanbaria-2 and Lakshmipur-3 constituencies are underway peacefully, with low voter turnout, amid the countrywide blockade on Sunday
Voting began at 8 am and will continue till 4 pm without any break.
Though the presence of voters at polling centers was thin, with time the voter turnout will increase, authorities hoped.
In Brahmanbaria-2, voters are casting their votes at 132 polling stations in Sarail and Ashuganj upazilas.
A total of 800 police personnel, seven platoons of Border Guard Bangladesh, Rapid Action Battalion (RAB) and Ansar are on the electoral field to maintain law and order situation in and around the polling centers.
A total of 4, 10,072 voters in Brahmanbaria-2 constituency are expected to exercise their voting rights in the by-polls.
Principal Shahjahan Alam Saju from Awami League, Jatiya Party's Abdul Hamid Bhasani, Zaker Party's Zahirul Islam Jewel, National People's Party's Md Razzak Hossain and independent candidate Advocate Ziaul Haque Mridha are contesting in the by-election.
Like Brahmanbaria-2, a peaceful by-election is underway in Lakshimpur-3 seat. Voters are exercising their right at 115 polling centers in the constituency.
Sixteen executive magistrates, 950 policemen, 1495 Ansars and 6 platoons of BGB have been deployed. In addition, seven teams of RAB are patrolling during the by-election.
Awami League's Golam Faruk Pinku, Jatiya Party's Mohammad Rakib Hossain, Zaker Party's Shamsul Karim Khokon and NPP's Selim Mahmud are vying for the seat.
Earlier, on October 1, the Parliament Secretariat declared the two seats vacant, following the deaths of Lakshmipur-3 lawmaker AKM Shajahan Kamal and Brahmanbaria-2 lawmaker Abdus Sattar Bhuiyan.