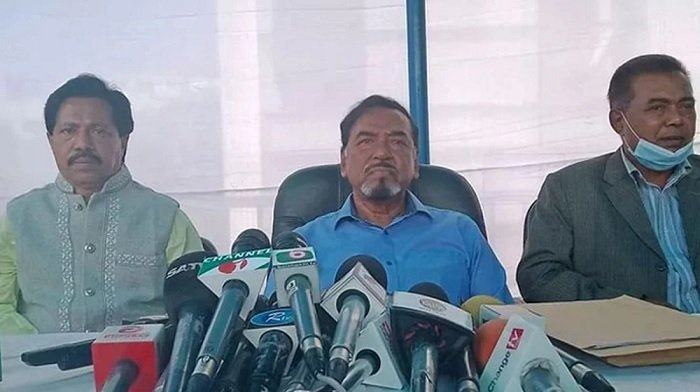 Amidst speculations that he may quit BNP, party vice-chairman Maj (Retd) Hafizuddin Ahmed has said BNP must participate in the next national election under the mediation of the international community.
He, however, said he is still observing the political situation and he will go abroad for treatment as he is sick.
"BNP should go to polls with the mediation of the international community. If the BNP joins the polls, I will participate in that election," Hafiz told reporters on Tuesday.
As his attention was drawn to the ruling party leaders' comment that he is going to join a new party, the BNP leader declined to make any comment on it.
"I only can say that I am observing the political situation…I am physically ill. I am not thinking about politics at this moment," he said,
Hafiz, a 79-year-old military officer turned politician, received treatment at the Combined Military Hospital (CMH) two months back for his various health complications.
He said he is preparing to go to Singapore for treatment as he is still unwell. "I will apply for a visa to go there."
Hafiz fought in the 1971 Liberation War under the first military brigade of Bangladesh Armed Forces, 'Z Force', led by BNP founder Ziaur Rahman. He was awarded the third highest gallantry award in Bangladesh, Bir Bikram, for his courage.
After retiring from the army, he joined politics and he was elected MP six times from Bhola-3 (Lalmohan-Tajumuddin).
He served as the Water Resources Minister as BNP formed government in 2001. Hafiz has been there in the post of BNP vice-chairman for over a decade.
On December 14, 2015, BNP served Hafiz with a show-cause notice, signed by party senior Joint Secretary General Ruhul Kabir Rizvi, for violating party discipline.
Later at a press conference, he termed untrue the allegations mentioned in the show-cause notice served on him and said he felt insulted as the party issued it in an 'attacking language that goes against courtesy and protocol.'