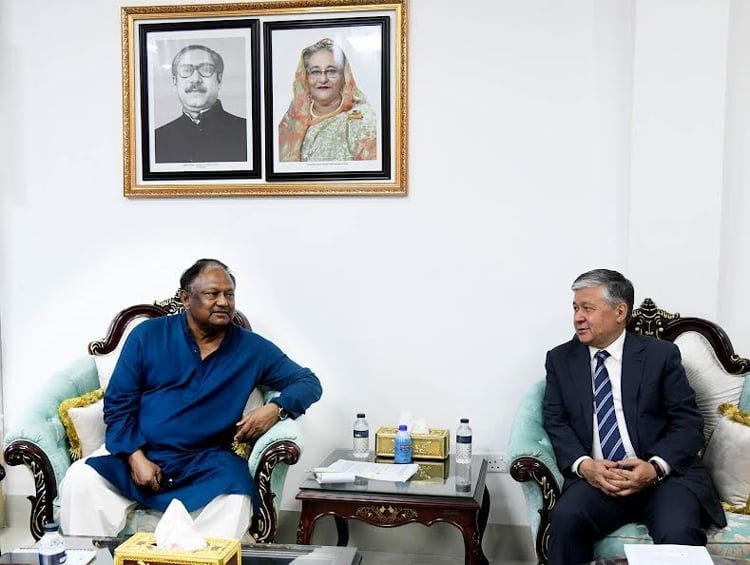 Commerce Minister Tipu Munshi on Thursday sought investment from the investors of Uzbekistan in the country's special economic zones and hi-tech parks.
He also called for re-introducing direct flight between the two countries to promote bilateral trade and expansion of tourism.
Tipu made the urge when a delegation of Uzbekistan, led by deputy minister of foreign affairs Bakhrom Aloev, met him at the Ministry of Commerce at Bangladesh Secretariat today, BSS reports.
He said that there is a huge potential for promoting bilateral trade, commerce and tourism.
The commerce minister said that under the directives of Prime Minister Sheikh Hasina, some 100 special economic zones as well as numerous hi-tech parks are being set up in Bangladesh while attractive stimulus packages and incentives have been announced for the foreign investors.
In this regard, he urged the Uzbek investors to avail such facility and thus invest in Bangladesh in large numbers.
Following request from the Bangladesh Minister for reintroducing direct flight and simplification of visa procedures, the Uzbek deputy minister said that his country would take necessary steps in this regard.
Mentioning that Prime Minster Sheikh Hasina has been putting special emphasis on economic diplomacy, Tipu said a Bangladesh delegation, led by him, will take part in the "Inter Governmental Commission" to be held in August in Uzbekistan to boost bilateral trade and commerce side by side increasing the participation of the private sector.
Recalling that the bilateral relations between the two countries was established back in 1973 with the visit of Father of the Nation Bangabandhu Sheikh Mujibur Rahman to Uzbekistan, Tipu said that this relation got a new dimension with the passage of time.
Mentioning that Bangladesh is currently exporting pharmaceuticals to more than 152 countries, he said that there is also huge scope for boosting cooperation between the two countries in the fields of pharmaceuticals, generic medicines, jute, jute-made goods, frozen foods, ceramic products, ICT products, handicrafts, leather, agriculture, fresh fruits, vegetables, agriculture machineries skills development and transfer of technologies.
In response, the Uzbek deputy minister requested the Commerce Minister to exhibit Bangladeshi products in Uzbekistan side by side urged the Bangladeshi businesses to invest in Uzbekistan.
In the last fiscal year (FY22), Bangladesh exported goods worth $26.33 million to Uzbekistan against the imports of $8.80 million.
High officials of both the countries were present, among others, on the occasion.