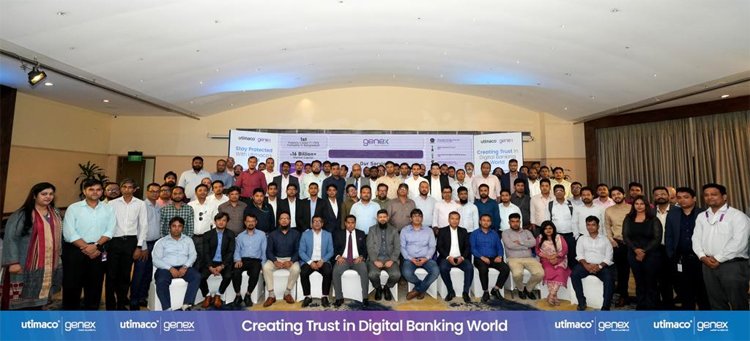 Utimaco, one of the leading Hardware Security Module (HSM) OEM from Germany, and Genex Infosys Limited, one of the leading IT solutions providersin the country, organised a collaborative event at a hotel in the capital on May 29.
The event, titled "Creating Trust in the Digital Banking World," was an interactive session by the experts from Utimaco and Genex Infosys on safeguarding digital banking operations, fostering trust, and addressing emerging cybersecurity challenges in Bangladesh, says a press release.
Card payment systems usually use what is commonly known as the "Four-Party Model." This involves the cardholder, a consumer with a payment card provided by a bank or other financial institutions, and the merchant, a business, or an individual who receives card payments in exchange for products and services. Automated Teller Machines (ATMs) belong to this category as they accept payment cards.
Key parties also include the issuing bank, which provides payment cards to the card owner on behalf of the card networks. In this model, the issuer is the one who pays the acquiring bank for the purchased products and services by the cardholder, who then pays back the issuing bank according to the contract terms.
Officials from various banks and financial organisations, industry experts, and government officials attended the event.
The keynote speakers were Manish Gupta, director of Business Development and Sales for SAARC, UtimacoIS PTE; Abu Taiyab, chief operating officer, Genex Infosys Limited; Mohit Malik, pre-sales head-SAARC, UtimacoIS PTE.
Manish Gupta, director of Business Development & Sales for SAARC at UtimacoIS PTE, said, "We are pleased to collaborate with Genex Infosys in the Bangladesh market for their commitment to bring innovative approaches ensuring digital security that aligns perfectly with our goals, Utimaco IS PTE is fully committed to the Bangladesh market and enabling the organizations to achieve data security by our cutting edge HSM solution".
He said, "As Bangladesh undergoes its digital transformation, addressing cybersecurity risks is paramount. By adopting a 'cybersecurity-by-design' approach and utilising robust and advanced UTIMACO HSM solutions, we can achieve secure growth, in every sector like banking sector etc".
Abu Taiyab, executive director at Genex Infosys Limited said, "Partnering with Utimaco, a global leader in advanced cybersecurity solutions, fills us with immense pride".
"Zero trust is a transformative concept in the banking sector, requiring organisations to continuously verify access requests and monitor user activity," highlights Mohit Malik, pre-sales head-SAARC at UtimacoIS PTE.
The event offered valuable insights through interactive Q&A sessions, urging financial organisations to prioritise data security and collaborate with industry leaders like Utimaco and Genex Infosys.