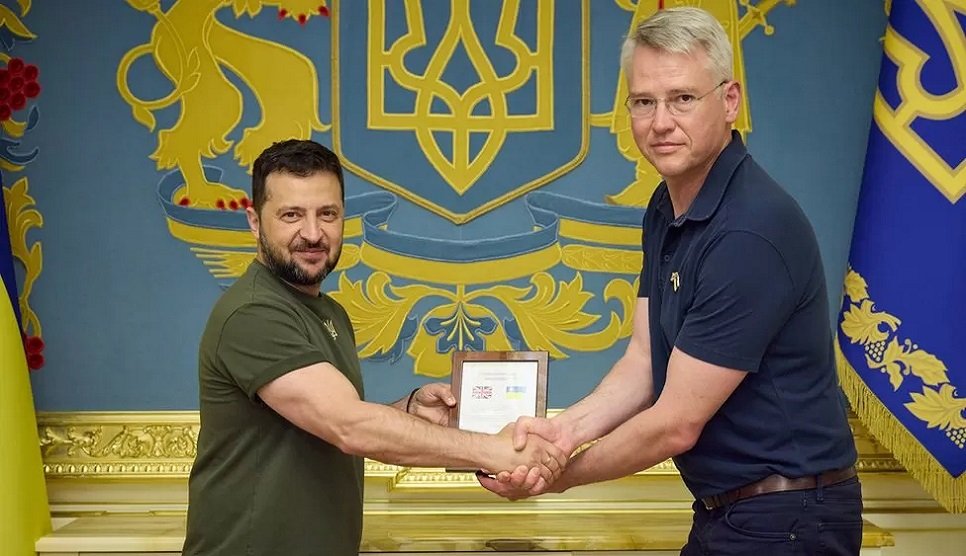 UK defence giant BAE Systems has set up a local entity in Ukraine and signed deals to help ramp up supplies of weapons and equipment to Kyiv.
The firm says the move will allow it to work directly with Ukraine to explore potential partners and ultimately produce light artillery there.
BAE has made much of the arms the UK and other nations have sent to Ukraine.
Since the Russian invasion in February 2022, Britain has become a major defence supplier to Ukraine.
"The development of our own weapons production is a top priority," Ukrainian President Volodymyr Zelensky wrote on X, the social media platform formerly known as Twitter.
The announcement came after Mr Zelensky held a meeting with BAE Chief Executive Charles Woodburn.
"Signing the agreements and establishing a legal entity in Ukraine builds on our existing trust and support and paves the way for us to work together to provide more direct support to the Ukrainian armed forces," Mr Woodburn said in a company statement.
The agreements came after Ukraine and Sweden signed a statement of intent to strengthen co-operation in production, operation, training and servicing of CV90 armoured vehicles, which are currently produced by BAE Systems' Hägglunds business in Sweden.
Mr Zelensky said in May that Kyiv and BAE were working on a plan for the company to open an office in Ukraine.
Kyiv is eager to boost its supplies of weapons and other military equipment, as well as create jobs in an economy hit hard by the war.
BAE, which has seen its share price jump by more than 75% since February 2022, is already providing training and repair services to Ukraine's military.
The multinational arms, security and aerospace company employs 93,000 people in about 40 countries around the world.
It is Europe's biggest defence contractor with annual sales of more than £23bn and almost £2.5bn in profits last year.