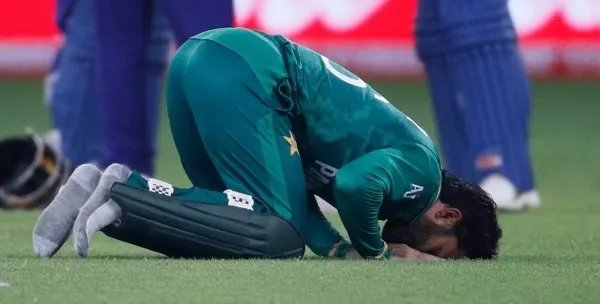 A complaint has been filed against star Pakistan keeper-batter Mohammad Rizwan for offering prayers (namaz) on the cricket field during the game against the Netherlands in World Cup 2023, reports Indian media.
Vineet Jindal, an advocate in the Supreme Court of India, wrote to the ICC, saying Rizwan offering prayers during the match 'raises questions about the spirit of the game.'
"This is a complaint about Pakistan Cricket Player, Mohammad Rizwan, who was seen offering namaz on the cricket field during his team's opening match of the ongoing ICC Men's ODI World Cup 2023 on Friday (Oct 6) against the Netherlands in Hyderabad," reads the complaint filed by Jindal with the ICC chairman Greg Barclay.
"The act of Mohammad Rizwan when he read namaz on the cricket field amid many Indians is symbolic of the intentional depiction of his religion, which stands against the spirit of the sports," it added.
In the complaint he filed, the lawyer said Rizwan offering the prayers defeated the whole purpose of the spirit of cricket, further questioning his ideology behind it. He added that by doing so, Rizwan was purposely depicting his religion.
Vineet posted the photo of his complaint on his social media handle, receiving attention from everywhere.
Following his match-winning hundred against Sri Lanka the other day, Rizwan dedicated his knock (on X – previously known as Twitter) to the people of Gaza, putting himself in a controversial sphere, given the dos and don'ts laid by the cricket's governing body.
"The act of representation of his religion by Mohammed Rizwan in the field and further followed by his statement in his press conference regarding the dedication of his victory to the people of Gaza further attests to his religious and political ideology," the statement read.
Meanwhile, Pakistan have won two and lost one in three matches played in this World Cup so far. They will next face Australia in Bengaluru on Friday (Oct 20).