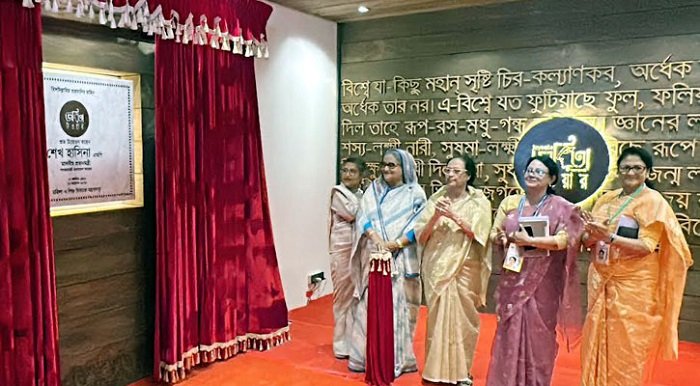 Prime Minister Sheikh Hasina on Tuesday inaugurated the newly constructed 12-storey Joyita Tower at Dhanmondi in the city.
She unveiled the inaugural plaque of Joyita Tower in Dhanmondi, Jamdani Gallery and Joyita Market Place installed in Joyita Tower, reports UNB.
The prime minister attended the inauguration ceremony of Jayita Tower organised by Ministry of Women and Child Affairs at her official residence Ganabhaban.
On her arrival at the venue, she was received by State Minister for Child and Women Affairs, Fazilatunnesa Indira.
PM's younger sister Sheikh Rehana was with her.
Artistes of Bangladesh Shishu Academy welcomed them with music and dance. The PM also took pictures with them.
Later, the prime minister visited different parts of the tower.
She also unveiled the book titled 'Contribution of Father of the Nation Bangabandhu Sheikh Mujibur Rahman to Economic Empowerment of Women' at the inauguration ceremony.
According to ministry sources, Joyita Tower has been constructed with state-of-the-art physical infrastructure facilities.
This will help ensure women's economic empowerment by involving the country's women entrepreneurs in various business ventures under the Joyita brand.
Joyita Tower has the facilities for marketing various types of processed products, supply chain and services produced by women entrepreneurs of the country with universal accessibility.
In this building, physical infrastructural facilities have been provided for training women entrepreneurs based on knowledge, skills, business management and development strategies.
There are ample car parking facilities and a spacious lobby.
Besides, it will house the headquarters of Joyita Foundation.
Joyita Iconic Tower has Child Daycare Centre, Design Centre, Beauty Parlour, Gymnasium for Women, Swimming Pool for Women and Children, Multipurpose Hall, Seminar Hall, Bank, Food-Court and Cafe. E-Joita online market place has been launched.
PM Hasina laid the foundation stone for the construction of the 12-storey Joyita Tower on December 1, 2021.
It has been built at a cost of Tk 168.40 crore on one bigha land at 27 (old) road of Dhanmondi in the capital.
She also inaugurated the Joyita Foundation programme on November 16, 2011 with the aim of economic empowerment of women in Bangladesh.
In the meantime, the government has allotted one bigha of land to each division of the country at a token price for the foundation.
Joyita seeks to build a women-friendly separate marketing network across the country by launching its activities in every district and upazila.