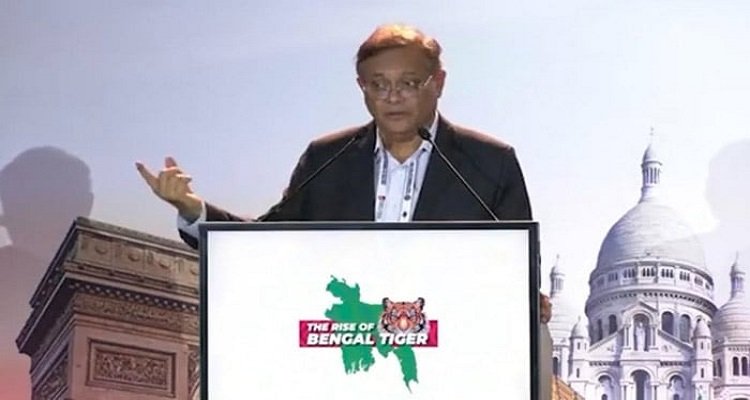 Information and Broadcasting Minister Dr Hasan Mahmud has urged global investors to invest in Bangladesh as it is the most investment friendly and promising country.
"Bangladesh is now becoming the most investment friendly and promising country for its infrastructure development and other facilities including development of sea and river ports, inter-country rail and road communications," Hasan said, mentioning that Bangladesh has achieved incredible growth in all sectors in the last 15 years under the dynamic leadership of Prime Minister Sheikh Hasina.
The minister made the remarks addressing the inaugural session of the three-day Bangladesh-France Trade and Investment Summit at Intercontinental Hotel in Paris, France on Monday, said a release received here on Tuesday, reports BSS.
Advisor to the Prime Minister on Private Industry and Investment Salman F Rahman, Bangladesh Securities and Exchange Commission (BSEC) Chairman Professor Shibli Rubayet-Ul-Islam, France Ambassador to Bangladesh Marie Masdupuy, Bangladesh Ambassador to France M Talha, France-Bangladesh Business Council President Pierre-Jean Malgouyers, among others, addressed the function.
The minister said the per capita income has also increased and even the per capita income of about five crore people is now $5,000. The number of people will be increased to 7 seven crore in the next decade, said Hasan, also Awami League joint general secretary.
French Ambassador to Bangladesh Marie Masdupuy said Paris is thinking of investing in different sectors of Bangladesh.
French President Emmanuel Macron visited Bangladesh one and a half month ago, she said, adding, during the visit, the two countries discussed the interest of the two states.
BSEC chairman Shibli said France is one of the biggest markets in the world. The aim of the summit is to provide accurate information about Bangladesh for this market as France considers Bangladesh as a partner, he added.
Pierre-Jean Malgouyers said a business delegation will visit Bangladesh in February or March next year. They will decide to invest in different sectors after the visit, he added.
BSEC and Bangladesh Investment Development Authority (BIDA) organised the summit.