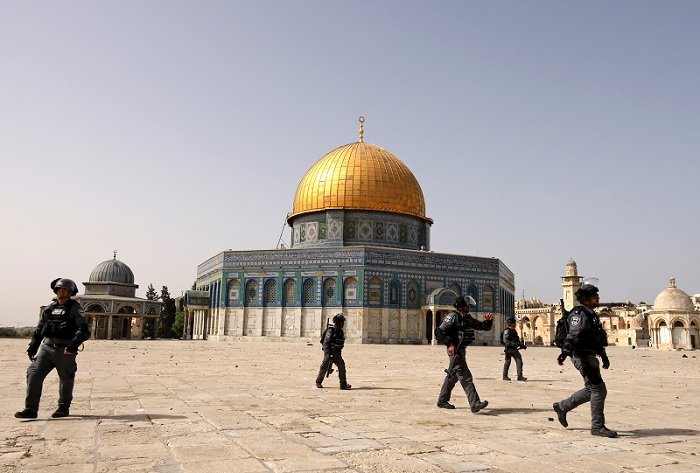 Israeli police have shut down Al-Aqsa mosque in Jerusalem's old city, preventing Muslim worshippers from entering, the Palestinian state news agency (WAFA) reported on Tuesday citing the Islamic Waqf department.
The Islamic Waqf – the Jordanian appointed Islamic organization managing the complex – said that police officers abruptly shut down all gates leading to the walled compound and stopped Muslims from entering while allowing Jewish worshippers to perform their prayers, violating the status quo of the mosque, according to reports from WAFA.
Under a longstanding status quo arrangement governing the compound, non-Muslims can visit but only Muslims may worship in the holy compound. Some Jewish visitors often pray there despite that arrangement.
According to Jewish law, entering any part of the Al Aqsa Mosque compound, also known as the Temple Mount, is forbidden for Jews due to the sacred nature of the site.
Israeli authorities restricted entry into the mosque since early Tuesday morning. They initially allowed the elderly to enter before denying entry to all Muslim worshippers the state news agency reported.
The unusual yet not uncommon move comes as tensions in the region are soaring due to the ongoing Hamas-Israel war.
Frequent flashpoint
The Al-Aqsa compound, the third holiest site in Islam and the most sacred site in Judaism, revered as Temple Mount, is a frequent flashpoint between the Israelis and Palestinians.
Earlier this month, hundreds of Israelis forced their way into the Al-Aqsa mosque complex to mark the fifth day of Sukkot, week-long Jewish holiday, according to multiple reports citing the Islamic Waqf Department.
Countries in the Middle East including Egypt, Yemen, Jordan, and GCC countries routinely issue statements denouncing violence by Israeli extremists in the Al-Aqsa holy compound, who often under the protection of the Israeli police clash with Palestinians in the complex.