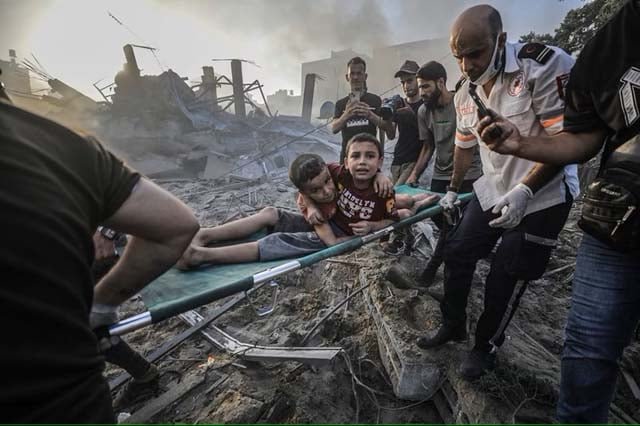 Hamas on Thursday released a list of almost 7,000 names of Gazans it said had been killed in Israeli strikes after the US president cast doubt on its toll figures.
The Palestinian Islamist group says that 7,028 people have now been killed in Gaza since its October 7 attacks which Israel says left 1,400 dead, mainly civilians.
The Hamas list of 6,747 names, released by its health ministry, gave the sex, age and identity card number of each of the victims. It said 281 bodies had not yet been identified.
The ministry said in a statement that the United States had "brazenly cast doubt on the truth of the announced toll".
"We have decided to announce the details of the names to the whole world so that the truth is known about the genocide perpetrated by the Israeli occupation against our people."
US President Joe Biden said on Wednesday that he had "no confidence" in the militant group's death toll figures.
"What they say to me is I have no notion that the Palestinians are telling the truth about how many people are killed. I'm sure innocents have been killed, and it's the price of waging a war," Biden told a White House press conference.
Biden has, however, been among several Western leaders to caution Israel over the civilian toll. Israel "should be incredibly careful to be sure that they're focusing on going after the folks that (are) propagating this war," he said.
Questioned about Hamas tolls on Thursday, Israeli military spokesman Richard Hecht said that "when the Hamas health ministry comes out with the numbers just take them with a pinch of salt."
The two sides have had several propaganda clashes during the war.
After a missile hit near a Gaza City hospital on October 17, Hamas blamed an Israeli air strike and said hundreds had been killed. Israel insists that a misdirected rocket fired by a Gaza militant group was to blame. It has also questioned the toll.
The United States and European countries have backed the Israeli version of events.