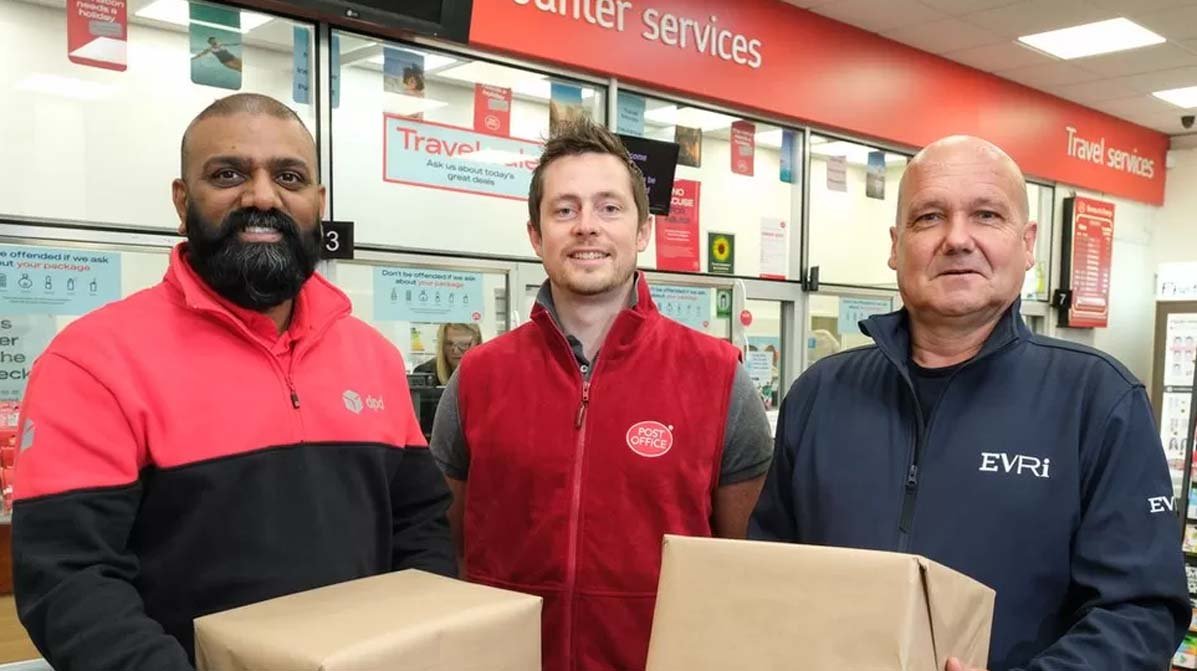 Post Office customers will soon be able to send parcels over the counter using DPD and Evri delivery services.
It is the first time in the Post Office's 360-year history that people can choose to use companies other than Royal Mail.
The new service will begin in selected stores in time for the peak Christmas delivery season, said the Post Office.
But shops in smaller, more rural areas of the UK may not benefit immediately from the new agreement.
Post Office chief executive, Nick Read, denied that offering deliveries with more carriers was a slap in the face for Royal Mail.
It was, he told the BBC's Today programme, a "natural evolution" for postal services.
Royal Mail has faced difficulties in past years. It blamed 18 days of strike action and high levels of staff absence for failing to meet its delivery targets, after industry watchdog Ofcom launched an investigation into the firm earlier this year.
Mr Read said that offering DPD and Evri services at post offices had nothing to do with Royal Mail's performance. "Consumers have told us they do want choice, they do want convenience, but they also want the expertise of coming into a branch," he said.
The Post Office said its partnership with Royal Mail remained "of utmost significance".
Evri's chief executive Martijn De Lange said that the service would launch at 2,000 post offices – less than a fifth of the 11,500 around the UK – and include "the bigger ones, the ones that people send a load of parcels in".
He added he expected that number to "probably double next year". Evri's international services will be available at selected branches.
Evri, which used to be known as Hermes, has faced its own performance issues. Evri apologised in January after customers across the country said they still were not receiving packages on time – or at all.
The firm also finished bottom of a league table complied by Citizens Advice ranking parcel delivery companies, for two years in a row.
Mr De Lange admitted that as the biggest parcel company in the UK – it says it delivers more than 730 million packages a year – "there were always going to be a couple wrong" but the company had just launched a new customer service function.
Mr De Lange also said that last year had been "challenging" with worker shortages, but that it had recruited an extra 6,500 staff.
He added that Evri delivered to "every single home in rural Scotland" and said Evri would "absolutely use Post Offices in smaller towns and villages".
Royal Mail said in the past that delivering letters was no longer profitable and that it was focusing on parcels because of the increasing popularity of online shopping.
But it also faces fierce competition from other couriers and in February it claimed it was losing about £1m a day.
Royal Mail is legally required to deliver parcels five days a week to every address in the UK, at "affordable prices that are uniform throughout the UK", as part of the Universal Postal Service.
Any changes to the law can only be made by the UK Government.
Mr Read said Royal Mail's obligations means it could be "potentially" undercut on price by Evri and DPD.
Royal Mail said it has a "long history of working with the Post Office". It said that as customer preferences evolved "we have also opened up a variety of new ways for customers to access our services".
DPD parcels can already be collected from Post Office branches, while those using Evri are able to send and receive via the PUDO and Parcels Online services using a website or smartphone app.
Since these services began, the Post Office said it had seen a broader demographic coming through its doors.
Meanwhile, Mr Read confirmed Post Office was still paying Japanese firm Fujitsu "tens of millions of pounds" for it's Horizon system.
More than 700 Post Office branch managers were convicted when the faulty accounting software made it look as though money had gone missing.
So far, 86 convictions have been overturned, with the scandal the subject of a public inquiry likely to conclude next year.
Mr Read said: "It is our desire to upgrade and move away from Horizon. It is a 25 year-old system, it needs to clearly be upgraded and we're looking at developing a new system so we can get off Horizon."