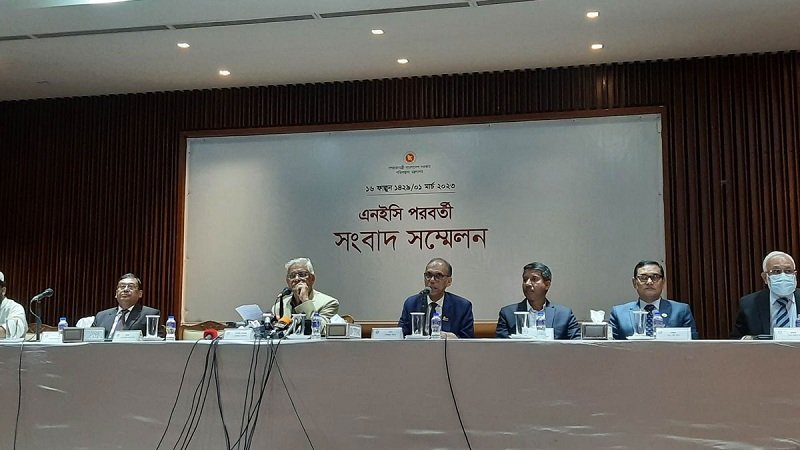 The National Economic Council (NEC) has approved Tk 2,27,566 crore revised Annual Development Programme (ADP) for the current fiscal year, downsizing the original ADP size by 7.51 per cent.
The revised ADP is slated to implement a total of 1,526 projects under 15 sectors with the allocation of Tk 2,20,512, which is 96.90 per cent of the revised ADP. Of the projects, 1,410 are investment related and the rest 116 are technical assistance projects.
Out of the total Revised ADP allocation, Tk 1,53,066.09 crore will come from the local sources while the rest of Tk 74,500 crore will come from the foreign sources. The funding from the local sources in the Revised ADP remains intact.
The approval was given at a meeting of the NEC presided over by NEC Chairperson and Prime Minister Sheikh Hasina on Wednesday.
State Minister for Planning Dr Shamsul Alam later shared the details of the approval made at the meeting held in the NEC Conference Room at Sher-e-Bangla Nagar on Wednesday.
The size of the revised ADP for FY23 has increased to 9.64 per cent, compared to the revised ADP for FY22, the state minister disclosed at the press briefing after the meeting.
The project implementing agencies will spend around Tk 8,994.58 crore for their respective projects. Therefore, the actual size of the revised ADP will be Tk 2,36,560.67 crore including the cost of self-financed projects.
According to the revised plan, the transport sector will receive the highest Tk 61,810 crore, around 27.16 per cent of the total allocation, to improve the infrastructure.
The second highest Tk 38,317 crore or 16.84 per cent was allocated to implement the projects of the power sector while Housing and Community Facilities sector was allocated Tk 25,939 crore or 11.4 per cent.
"Decisions on project implementation should be taken wisely," the state minister said quoting the premier who called on the authorities to prioritise the projects that will generate income and employment opportunities, as well as, the ones that can be completed soon.
"Emphasising the importance of relevant skill building, the Prime Minister has ordered to formulate ministry-based lists to figure out the loopholes citing the stagnation of many projects which are yet to go into full operation for the lack of skilled employees," Dr Shamsul Alam added.